Love making music? This is the perfect way to spend the summer with some of the world's finest players - and it's open to absolutely everyone!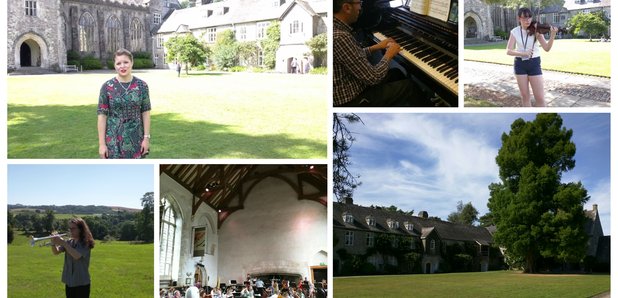 Every year, musicians of all ages, backgrounds and abilities descend on The Dartington Hall Trust just outside Totnes in Devon. Dartington Hall itself is a Grade I listed building, with the gardens Grade II listed. Believe us, it's all VERY beautiful.
For several weeks each summer, the International Summer School offers masterclasses, workshops from some of the world's finest musicians and concerts in classical, jazz, early music, world music and many more disciplines. Attendees listen, learn and practice surrounded by music in an incredible setting: expect to see musicians practicing their arpeggios under trees, or learning their scores while basking in the sun.
Classic FM was there to take in the action from the 2016 Internation Summer School and capture what happens in the hall, the surrounding rooms and studios, as well as the gardens and countryside.
The International Summer School is open to everyone - find out more here .
Trumpeter
Zerlina Vulliamy t

esting the countryside acoustics (and very nice they are too)
13-year-old violinist Olivia Howdle gives us some exceptional solo Bach
Jazzy Gershwin from Chia-Ying Jaqueline Tu
Some beautiful, lyrical Bartók from pianist Tony Fowler
The Scottish melody, 'O Can Ye Sew Cushions?' sung by soprano Jennifer Coleman just outside the main hall
And to prove that music, and indeed Dartington is for all ages, 96-year-old Charles Baron at 2016's festival
Play
Charles Barren
The 96-year-old violinist plays at Dartington Summer School, Devon.
03:27