Rutter (1945-present)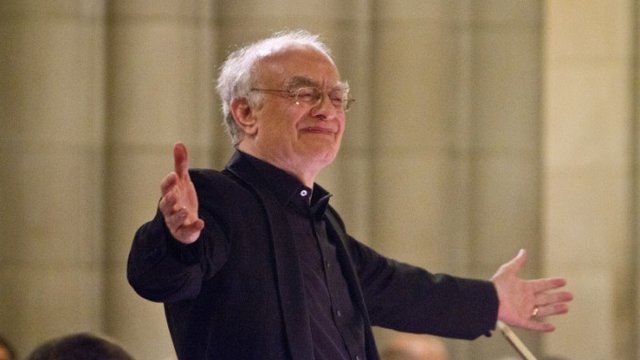 Biography
Life and Music

Born in London, he was educated at Highgate School, where a fellow pupil was John Tavener. He then read music at Clare College, Cambridge, where he was a member of the choir.

He was Director of Music at Clare College from 1975-1979 and led the choir to international prominence.

In 1974, Rutter visited the United States at the invitation of choral musician Melvin Olson and conducted the premiere of his cantata Gloria in Omaha, Nebraska.
In 1981 Rutter founded his own choir, the Cambridge Singers, which he conducts and with which he has made many recordings of sacred choral repertoire (including his own works), particularly under his own label Collegium Records. He still lives near Cambridge, but frequently conducts other choirs and orchestras around the world.

From 1985-1992 he suffered severely from Myalgic Encephalomyelitis (ME), which restricted his output.

He also works as an arranger and editor, most notably of the extraordinarily successful Carols for Choirs anthology series in collaboration with Sir David Willcocks.

Rutter's compositions are chiefly choral, and include Christmas carols, anthems and extended works such as a Gloria, a Magnificat and a Requiem.

Rutter's world premiere of his Requiem Mass, as well as his authoritative version of Faure's, was with the Fox Valley Festival Chorus, in Illinois.

Rutter's music is eclectic, showing the influences of the French and English choral traditions of the early 20th century, as well as of light music and American classic songwriting. Almost every choral anthem and hymn that he writes, in addition to the standard piano/organ accompaniment, has a subsequent orchestral accompaniment as well, utilising various different instrumentations.

Did you know?

Despite composing and conducting predominantly sacred music, Rutter does not consider himself particularly religious.
View more
Rutter: the man
Most shared Rutter features