Mozart's Oboe Concerto in C K314, performed on an instrument full of helium, because of course.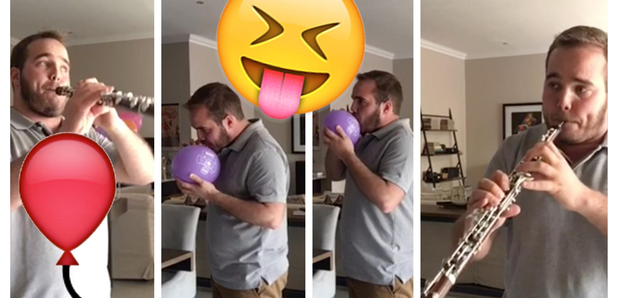 Yesterday clarinettist Emil Jonason introduced something that we now realise we all needed in our life, Mozart's Clarinet Concerto played with a lungful of helium. Here it is:
Helium is lighter than air, so the sound waves travel through it faster, with hilarious consequences when there's a voice box or instrument involved.
Naturally, after some clarinet hilarity, we wanted more woodwind. Here to grant us our wish is balloon-loving oboist Johan Ferreira. Here's Mozart's Oboe Concerto, with the traditional (boring) non-helium technique, and then with helium.
Play
Mozart's Oboe Concerto - on helium
Only experienced musicians should try this...
01:14
Thanks so much, Johan! He's actually playing the concerto next weekend with the Gauteng Philharmonic in Pretoria, South Africa. Good luck for the gig - just lay off the balloons beforehand.
Bassonists - you're next. Email us your video to social.media@classicfm.com.