Daniel Barenboim spoke exclusively to Classic FM about the great English composer after conducting the Staatskapelle Berlin in Elgar's Symphony No.2.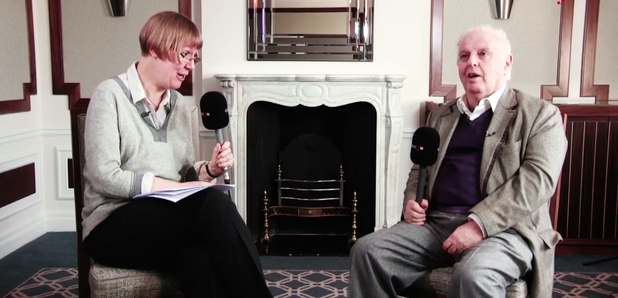 The brilliant conductor spoke exclusively to Classic FM, and fresh off the back of a concert in which he'd conducted Elgar's Second Symphony, he told Charlotte Green why he was tired of people belittling the great composer:
Play
"There is something English about Elgar's music in the same way that there's something German about Brahms or Italian about Verdi or something Czech about Smetana or Dvořák. But there's no reason to think of Elgar only as an English composer. He's also fit for international consumption.
"I get very annoyed when people say 'then he conducted the Second Symphony by the English composer Edward Elgar'. You don't say 'the Italian composer Giacomo Puccini'. There's something slightly belittling – in other words 'he's ok for an English composer'… Elgar is what he is and he's a great composer and great orchestrator and as such he has to be respected and liked – or not – on the quality of his works and not on his nationality."
Barenboim sees the piano as a neutral instrument
Play
Barenboim on the piano
01:03
"My father made me very aware very early on that the piano is a neutral instrument. Any weight you put on the keys produces sound. Try to do to that on the violin or the oboe and you get nothing. Therefore the piano is a very neutral instrument and the piano becomes interesting only when you put colours on it, when you orchestrate on it. The piano is like a white wall, the other instruments all have a colour – red, yellow."
He believes soloists should leave conducting to the professionals

Play
Daniel Barenboim on player-conductors
01:43
"Conducting is a profession. The fact that you are a great pianist, violinist or cellist does not really give you licence to conduct."
"If you play and conduct and are not a conductor the orchestra is left to their own devices and you are limited to saying cute things like 'Listen how I play this' and 'Can you do it like this?' But this is not conducting, it shows a lack of respect for the profession of conductors. I get very militant about that."
He thinks Furtwängler is the model for music-making
Play
Barenboim on Furtwangler
00:24
"I met Furtwangler when I was 11 years old and I was very interested in what he had done and listened to all his records and read all his books and articles. He was and remains for me the model of everything that is good and positive about music-making"
He'd like to spend 24 hours with Mozart and share a cigar with Brahms
Play
Barenboim on meeting Mozart
01:23
"I think Mozart was the only composer who had the perfect combination between seriousness, talent, genius – lightheartedness and facility. And I would find it so extraordinarily exhilarating to spend 24 hours just watching how he did things.
"I love Brahms's music too but I don't feel the need to spend 24 hours with him – maybe to share a good cigar with him."
He has great taste in footwear
The West-Eastern Divan Orchestra came about 'accidentally'
Play

Barenboim on the West-Eastern Divan Orchestra

02:45
"In 1999 when Weimar was named Cultural Capital of Europe the man who ran it asked me if I would help make a music programme…
"I said: 'I will come and do a workshop for musicians from all the countries of the Middle East. If you Germans have a sense of responsibility for the past – which I found extremely important and very laudable – then you must help the Jewish people not just by building monuments to remember the Holocaust but also help them in their predicament now, the conflict with the Palestinians."
See the full interview below and hear Daniel Barenboim talking on Charlotte Green's Culture Club on Sunday 10 May at 3pm
Play
Daniel Barenboim talks to Charlotte Green
11:29
Hear Daniel Barenboim performing Schubert's Piano Sonatas at the Southbank Centre as part of 'The Barenboim Project' from 27 May.
Daniel Barenboim's new album 'Brahms: The Piano Concertos' is released on Deutsche Grammophon on 3 August, and a new recording of Elgar's Symphony No. 1 will be released on Decca Classics next year.