This chilli recipe came out of Rob's own head and is a big hit whenever he serves it up for family and friends.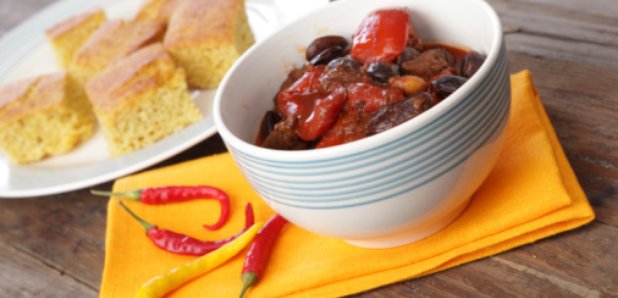 Behind-the-Scenes-Rob's Classic Vegetarian Chilli
6 July 2013
Anne-Marie says, "Rob is always behind the scenes. Hence his name. Working all hours means having a large pot of his classic vegetarian chill in the fridge is the handiest way to beat hunger at whatever time he gets home. The aubergine gives it a thick meaty texture (without the meat). And he tells me it tastes better the longer you leave it.'
Ingredients:

Two onions
Two chopped cloves of garlic or a heaped teaspoon of garlic powder.
Chopped raw chilli pepper or heaped teaspoon of chili powder
One aubergine - thinly sliced
Two courgettes
Carrots and/or other preferred vegetables (red peppers/broccoli/cauliflower)
Two cans of kidney beans and/or other mixed beans
Carton or can of chopped tomatoes (with or without chilli or garlic)
Salt
Method:

- Chop and fry the onions with the garlic and chilli in a wok or deep pan, until the onions are brown and soft.
- Add the slices of aubergine and fry until very soft.
- Add the courgettes, carrots and/or other preferred vegetables.
- Cook all together until softer, stirring well.
- Add cans of kidney beans and other mixed beans if you prefer.
- Add carton or can of chopped tomatoes. Stir all together.
- Add more chilli powder, salt and pepper to taste.
- Simmer for 20 minutes.
- Serve on a plate with rice, or in a bowl with freshly baked bread at the side.