Watch your loved one's face light up as you place this scrumptious dish on the table.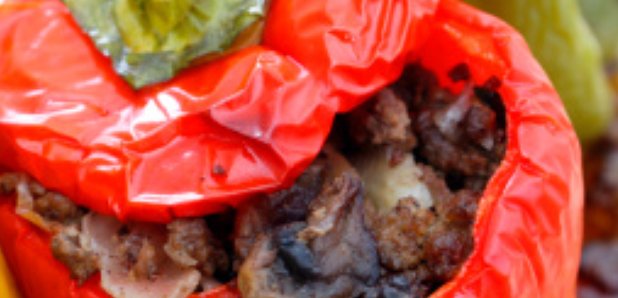 Romantic Romano Peppers
Saturday 15 February 2014

'Love is in the air, so, how about treating your significant other to a tasty home-cooked supper this Valentine's weekend?' says Anne-Marie. 'Even the dish I've chosen resembles a red heart – well, sort of! Nothing says "I'm rather fond of you, you know" more than something you've rustled up for them in the kitchen.'
Ingredients (serves two, obviously!)
1 tbsp oil
1 medium onion chopped
4 red chillies chopped and deseeded
1 clove garlic finely chopped
2 tomatoes skinned, deseeded and chopped
1/2 tsp turmeric
1/2 tsp cumin
Pinch of sugar
2 red Romano peppers
125g lean minced lamb
Generous handful of coriander chopped
150g rice (wild and basmati is a good one to use)
Lemon or lime to garnish
Method
Your oven needs to go on at 190C or Gas Mark 5.
First make your stuffing for the peppers. Heat the oil in a large frying pan before adding the onion and cooking for five minutes on a gentle heat. After that, in go the chillies, the garlic, the spices, the sugar and some seasoning. Give the mixture a good 10-15 minutes on the hob before removing the pan from the heat and allowing to cool.
To the spicy onion stuffing you now need to introduce the lamb mince, the coriander and the tomatoes. Stir everything in well.
Now to those romantic peppers themselves. Halve each one, lengthways removing any seeds. Take spoonfuls of your stuffing mixture and place into the peppers. Butter a good-sized roasting tin and then put the peppers in together with 4 tbsps of water. You should cover tightly with some strong foil before baking for 40 minutes. After that, remove the foil and give the stuffed peppers about another 10 minutes in the oven uncovered.
Cook your rice according to the packet instructions and serve alongside the peppers with some lemon or lime wedges.

Then watch your loved one's face light up as you place this scrumptious dish on the table.