A chilled soup to refresh a summer lunch.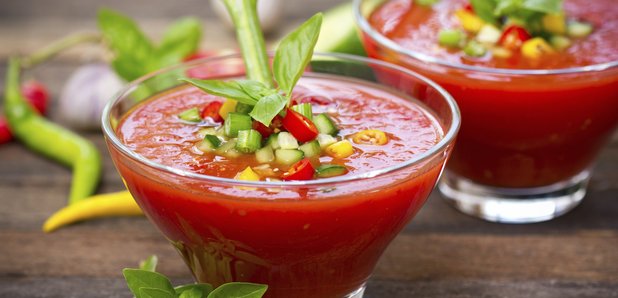 Gorgeous gazpacho
Saturday 12 July 2014

Anne-Marie Minhall says, "Soup in summer? Oh yes. The first time I tasted gazpacho was at a family gathering one hot summer's day and it was all I could do to stop myself from saying, 'Auntie Ann, do you know this soup is cold, do you want to heat it up?' Once it was explained to me that that is how one of Andalucia's most famous dishes is supposed to be, I was sold. This is a chilled and refreshing starter or lunch dish and with such a great selection of British tomatoes around at the moment, there couldn't be a better time to make it.

Ingredients
(serves two)
500g very ripe, red tomatoes, diced
1 half cucumber, peeled and diced plus a bit extra for garnish if you fancy
1 red pepper, deseeded and diced
1 clove of garlic, crushed
4 spring onions, thinly sliced
75ml of your favourite extra virgin olive oil
1 tbsp red wine vinegar
Handful of fresh basil, torn plus some extra to garnish
Seasoning
Method


There are two methods to mixing everything together; the traditional way is with a large mortar and pestle but a food processor is also just as good to use.
Combine the tomatoes, cucumber, pepper, garlic, spring onions and basil with your olive oil. Blend well before adding the vinegar and seasoning to your taste.
The next step is the most important - chill the soup in the fridge; overnight is perfect or for at least 6 hours.
To serve, add a little more olive oil on the top together with some more diced cucumber and torn basil.