A speedy, cheesy supper for one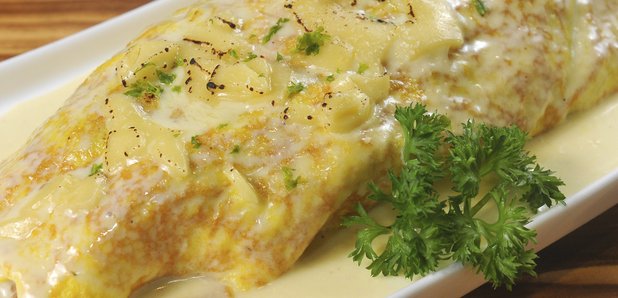 Cheese Omelette
Saturday 29 March 2014

Anne-Marie Minhall says, "This is the ever-versatile omelette which lends itself to just about anything: onions, mushrooms, ham, chilli - you name it. Here, though, I've kept it to just one key ingredient: cheese. And it's got to be a beauty of one to make this dish stand out. Serve with a green salad."
Ingredients (serves one)
3 free-range, organic eggs
1 tbsp butter
40g really good cheddar, grated (Montgomery or Cave Matured)
Sprinkling of chopped parsley to garnish
Method
In a bowl, beat the eggs together with some salt and pepper.
Heat the butter in a non-stick frying pan before adding the egg mixture and tip the pan so that the eggs are evenly spread. Cook until you can see that the bottom is beginning to set and then add the cheese.
When the cheese has melted, gently fold the omelette in half and serve with the parsley.