Hearty and warming - and easy to make!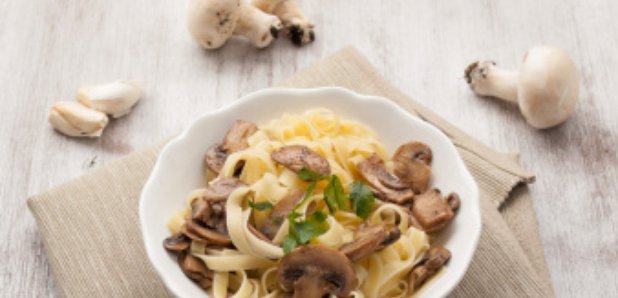 Autumnal Mushroom Tagliatelle
Saturday 28 September 2013
Anne-Marie says: 'This is dead simple and quick to do as well as really hearty and warming on a nippy evening.'
Ingredients
4 large chestnut mushrooms sliced
2 shallots chopped
2 garlic cloves crushed
Butter – generous slice
Rapeseed oil – tablespoon
Thyme – the leaves from 3 or 4 sprigs
Parsley – handful chopped (saving a little to garnish)
Parmesan grated
Tagliatelle - 50–75g (depending on how hungry you are)
Method

In a frying pan, melt the butter and then add the oil. After a couple of minutes heating through, pop in the shallots and the garlic.
Cook for 10 minutes on a gentle heat before putting the mushrooms in and cooking through for around 15-20 minutes until the mushrooms are really soft.
Get a pan of boiling water on for the pasta and cook according to packet instructions.
Add the herbs to the mushrooms, shallots and garlic.
Once the tagliatelle is al dente , add a little of the cooking water to the mushrooms before draining the pasta and adding it to the frying pan and stirring in.
Serve, sprinkling some more parsley on top and, if you feel like it, some grated Parmesan for richness.