The Oscar-winning composer Alexandre Desplat has been replaced by the Oscar-winning composer Michael Giacchino after much-discussed Rogue One reshoots.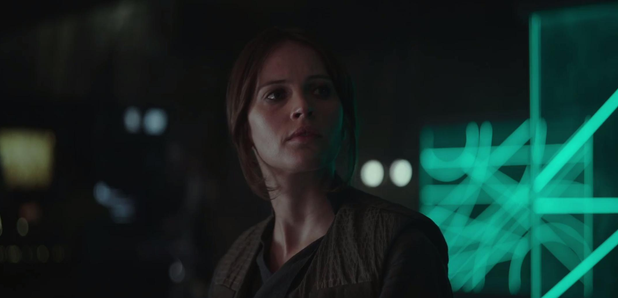 The new trailer is here... and the music is a bit 'hmm...'
So this happens with trailers. We've seen it before, countless times. Even when there aren't reshoots taking place (see below), the nature of film production means that soundtracks are often left until late in the running order. But with The Force Awakens, the trailer music was fantastic - neatly using existing Williams themes and extending them to suggest something new.
However, even though the brand-new trailer for Rogue One looks lovely, the music has clearly been pasted on as a bit of an afterthought. The most inventive thing we get is a ghost of Williams' Force Theme as a soprano solo, but the rest of it is basically Hans Zimmer-esque string ostinati.
It's probably safe to assume that Michael Giacchino's score is yet to take full shape and these themes are mere stand-ins, but still - this is a mite disappointing in musical terms:
Reshoots have knocked everything off course - Giacchino replaces Desplat
So we only have the word of the Hollywood press to go on for this, but it seems like the much-discussed reshoots of the first ever non-episodic Star Wars film have thrown a spanner in the works beyond the filming schedule. Alexandre Desplat was due to write the film's score (see our enthusiastic analyses below), but because of the late finishing of the final product, scheduling conflicts mean that Desplat cannot commit.
Who is worthy to replace him and, indeed, to be the first non-John Williams composer to tackle an official Star Wars film? It's a friend and longtime collaborator of producer J.J. Abrams, Michael Giacchino. This is very much a safe pair of hands and, if anything, a predicatable choice - Giacchino has a formidable CV of scores under his belt, and he was responsible for reinventing the sound of the rebooted Star Trek franchise (another pet project of J.J. Abrams.
The new trailer for Rogue One has arrived
Finally, after much speculation and anticipation, the new trailer is here. But does it tell us anything about the new Alexandre Desplat score?
Desplat is, demonstrably, a very different composer to John Williams, and although trailers do often tend to feature identikit music by anonymous producers, this one does seem to suggest a bridge between the two composers' styles.

Where the end of the first official trailer ended with John Williams' Imperial March theme played delicately on piano, so this new trailer begins with it, but it soon turns into drawn-out lower brass chords and busy, oscillating strings, swelling all the way through but never losing that main theme, synonymous with one character in particular…
Big news: Alexandre Desplat will compose the score for Rogue One
The first Star Wars spin-off movie since Disney bought the rights from LucasFilm, Rogue One, is the first major live-action Star Wars movie release not to be scored by series regular John Williams. Here's Monsieur Desplat confirming it on French radio (note: it's in French, unsurprisingly).
So we're like:
But what kind of soundtrack will Desplat deliver? He's worked on a hugely diverse range of projects in the past, with very little science fiction to his name… should we be worried? Well, no. Here's why:
He's worked with Gareth Edwards before
The British director will helm Rogue One, but he also hired Desplat for his last film, Godzilla. The soundtrack was something of a departure from his more quirky indie fare, but it sounded appropriately monstrous. Imagine this sort of sonic assault in the Star Wars universe:
He's an innovator
We're not advocating the use of mandolin in a Star Wars movie, but Desplat has a unique way of finding the perfect musical device to bring out a character's energies. His music for The Grand Budapest Hotel is a great example (and his umpteenth collaboration with Wes Anderson - cool points aplenty).
He's followed John Williams before
Desplat isn't the only composer to have taken up where John Williams left off in the Harry Potter saga, but he did so memorably. If he's able to incorporate that respectful homage element into his Star Wars score, we could be in for something that pleases the die-hards and engages the newbies.
He absolutely loves Star Wars and John Williams
This cannot be overlooked. Here he is chatting to Classic FM last year about how he was so moved by John Williams' original SW scores.
Basically, we're excited
We're expecting quirkiness, but also emotion and atmosphere. Maybe Desplat's relative lack of experience with huge-budget special-effects fests will work in his favour and we'll be given an inventive spin on what's gone before. All the signs point to Rogue One's soundtrack being nothing if not interesting.
And some of this might help: