It could be you! How Classic FM Romance helped these happy couples find love
13 December 2017, 15:06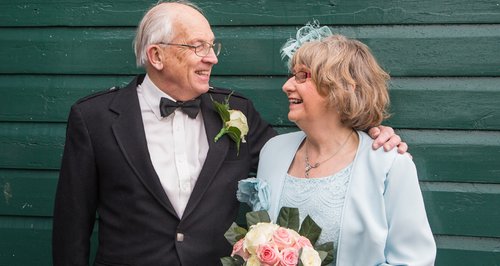 Classic FM Romance has helped thousands of classical music fans find like-minded partners for long-lasting relationships.
Classic FM Romance matches members to each other, pairing people who share similar interests, outlooks and music taste.
It's quick and easy to join and all matching and messaging services can be used for free, allowing pre-set one-line messages to be sent – full messages can be sent to premium members. Here, some of our happy ex-members share the romantic stories about how Classic FM Romance changed their lives.
Sign up now to Classic FM Romance. Find someone on your wavelength this winter, sign up from the 19 to the 25 December and we will give you a FREE one week trial subscription. Terms and conditions apply.
Pat and Val
"How wonderful life is since we met. We were both married for over 40 years and lost our spouses to cancer. They are not forgotten but loneliness is dreadful, so we are delighted to feel able to move forward together. We both agree that the approach of the Classic FM site is excellent and assists people to go through the process in a comfortable way.
"I signed up to Classic FM Romance and had a reply from Val within three days of joining. We met up on 31 of March 2016 and immediately knew we wanted to take things further. A few months later I proposed in King's College Chapel at Cambridge as I thought it would be a place we would remember, and she said yes! We married in January this year and Val moved in with me. We are delighted with our use of Classic FM and encourage others to give it a go. "
Barbara and Philip
"Philip and I met through Classic FM Romance in July 2014 and became engaged the following July. We got married on the beautiful island of Antigua on 17th of January 2016 at the Verandah Resort and Spa on the east coast of the island. The ceremony took place in a gazebo decorated with flowers, overlooking the beach and the bay where we had spent the morning sailing a catamaran.
"We honeymooned by flying to Florida to pick up Philip's yacht and spent 12 magic weeks sailing down the coast of Florida and across to the Bimini Islands, then down through Cays to Georgetown in the Bahamas where we left the boat and flew back to the UK. It may sound like a fairy tale, but it's true! Thank you so much for your part in this wonderful future I have with my dear sailor (Philip is a retired merchant navy captain). "
Paul and Joanne
"For our first date Paul took me to see Madness at the O2, which was fantastic as we both love Madness and ska. Afterwards to avoid traffic jams we had a walk alongside the Thames where we kissed and realised this was it. We are getting married on December 23rd, and will exchange rings made using the gold from my father's signet ring, who passed away 18 years ago. This will be followed by a wedding meal at our favourite Turkish restaurant, and then a party and cake for 150 friends. Our honeymoon will be spent at home with our two dogs, the fire and lots of delicious things to eat. As for the future, we're planning to buy a motor home and tour the UK with our dogs Paddy and Freddy. "