Not even the great Tchaikovsky was above taking part in a publicity stunt for the latest revolutionary recording technology.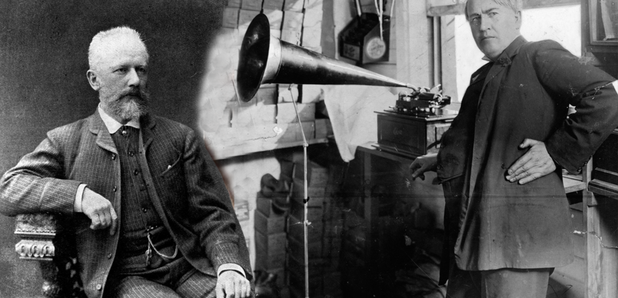 In January 1890, a group of musicians gathered in Moscow for a publicity stunt organised to boost sales of Thomas Edison's new state-of-the-art sound recording gadget, the phonograph.
The group comprised great composer Pyotr Ilyich Tchaikovsky , pianist Anton Rubinstein, pianist and conductor Vasily Safonov and opera singer Yelizaveta Lavrovskaya.
Their host was musician and businessman Julius Block, an agent for Thomas Edison's new recording device, the phonograph. In an effort to promote Edison's new gadget, he was aiming to record some of Russia's greatest artists, including Leo Tolstoy (who he recorded five years later) and Tchaikovsky.
Block pressed 'record' and the result was exactly the kind of thing you would expect from a group of people confronted with a game-changing technology that would one day revolutionise music: they banter and make silly noises.
It's mostly in Russian unfortunately, so if you want to know who is saying what, here's a handy transcript of the conversation, provided by YouTubers Transforming Art .
Anton Rubinstein : What a wonderful thing.
Julius Block : At last.
Yelizaveta Lavrovskaya : Disgusting. How dare you call me crafty?
Vasily Safonov : [Sings a scale incorrectly]
Pyotr Tchaikovsky : This trill could be better.
Lavrovskaya : [Sings]
Tchaikovsky : Block is good, but Edison is even better.
Lavrovskaya : [Singing] A-o, a-o.
Safonov : Peter Jurgenson in Moscow.
Tchaikovsky : Who just spoke? It seems like Safonov. [Whistles]
Listen to Tchaikovsky's voice below