13 intensely satisfying gifs of the hammer blow in Mahler's Symphony No. 6
4 October 2016, 12:02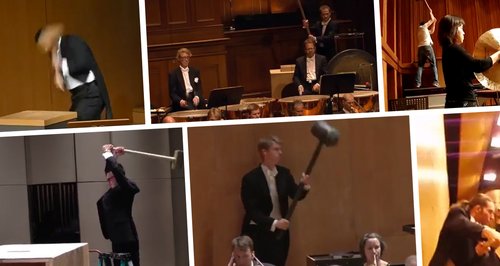 The hammer blow in Mahler's 6th symphony is one of the greatest moments in classical music. It's so great that we want to watch it on repeat.
'I am afraid of my own power'
'I know what I must do'
'I am essentially Thor'
'I and my fellow percussionists have anger issues'
'I can't get over Maestro's beard'
'I could literally kill the cymbal player if the angle was different'
'I am not big enough to carry this impractically oversized hammer'
'I have no need for a conventional hammer'
'I brought my own talcum powder'
'I have been permanently damaged by the recoil'
'I wish we had a bigger box'
'I did not prepare adequately for this'
'I will give this no more effort than necessary'
Oh, and here's the actual piece:
Enjoyed all this noise?
Why not donate to Global's Make Some Noise?