Support John Suchet's Machu Picchu trek for Global's Make Some Noise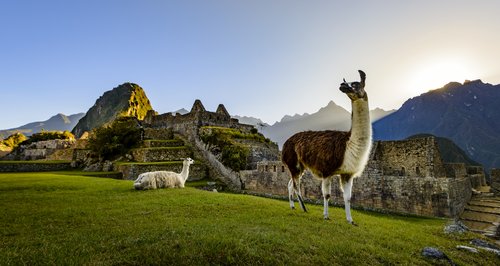 Classic FM's very own John Suchet will trek to an ancient world - the lost city of Machu Picchu - all for Global's Make Some Noise.
And he won't be alone, either: he'll be joined by the esteemed ranks of 'Team Suchet': John's wife Nula, David Suchet, Sheila Suchet, Peter Suchet, Jo Clinton Davis, Philip & Phyl Cook and Jonnie & Annie Haigh.
Combined ages of.... (that's secret). Will you support Team Suchet in their trek to Machu Picchu next March to raise money for @makenoise? You can donate here https://t.co/UqvC2EIqto pic.twitter.com/4Tos3rDMIW

— John Suchet (@johnsuchet1) November 27, 2017
Want to support the intrepid team and raise money for Global's Make Some Noise at the same time?
> Click here and give what you can
Join Classic FM's very own John Suchet on this incredible trek from 30th March - 8th April 2018, and help change the lives of disadvantaged youngsters across the UK by raising money for Classic FM's very own charity, Global's Make Some Noise.

This ten-day experience will see you head to Peru, with John, to discover the world heritage site of Machu Picchu and explore parts which many tourists don't ordinarily get to see. You'll explore the Inca capital of Cusco, hike in the Peruvian Andes and finally, reach the ancient lost city of Machu Picchu, situated 2,430m above the Sacred Valley. If you have an adventurous spirit, then this is the perfect challenge for you.

Want to know more? You can read a detailed day-by-day itinerary for the trip here.
We ask participants to pay a non-refundable registration fee of £395 and commit to raising a minimum of £3,975 for Classic FM's charity, Global's Make Some Noise, which supports brilliant small projects in the UK, helping youngsters and their families living with illness, disability or lack of opportunity.

In return, you'll receive:
- International flights to and from the UK, meals and accommodation during the challenge.
- First-class support from the Make Some Noise team to help you reach your fundraising target. You'll be put in contact with a dedicated member of staff, who'll be on hand to advise you every step of the way.
- Fundraising materials including t-shirts, collection buckets and tins as requested.
- A dedicated Facebook group, where you can get to know the other trekkers taking on this bucket-list challenge.
- Regular email updates packed with fundraising tips and tricks - and maybe even an appearance or two from some of your favourite Classic FM presenters!
- An invite to visit the Classic FM's studio in London to meet other participants ahead of your trip.
- A Global's Make Some Noise t-shirt to wear with pride during your trek.
- A guarantee that the money you raise really will make a difference.

The experience is run by our trekking partner, Charity Challenge, who have over 16 years experience in delivering stunning treks to thousands of fundraisers - including Classic FM listeners! You'll be travelling with like-minded people, all raising money for the same great cause. So go on, do something extraordinary and sign up now.

Click here to sign up >

Do you have a question? No problem. Just get in touch with us on trek@makesomenoise.com or call the team on 0345 606 0990.

Alternatively, leave your details below, and we'll be in touch to answer any queries you have.
"I did the Inca Trail in 2009. It was the most memorable, heart-warming, emotional, tear jerking experience! The guides were amazing as were the porters, cooks (the food was fabulous). Extremely hard work, but so worthwhile. The country is vast and stunningly beautiful. Don't think about it, just do it!" - Jacqueline Green, Classic FM listener
"Wow! This was the challenge of a lifetime! It was the toughest but most rewarding experience of my life. I will never forget the breathtaking views of Machu Picchu and the amazing support of the team and trekkers." – Rachel Davids, 2016
A minimum of 51% of your fundraising will be donated to Global's Make Some Noise.