Widely regarded as one of the country's leading chamber music groups, the Aquarelle Guitar Quartet have spoken to Classic FM about how a serious injury very nearly derailed the promotional plans for their new album, Final Cut.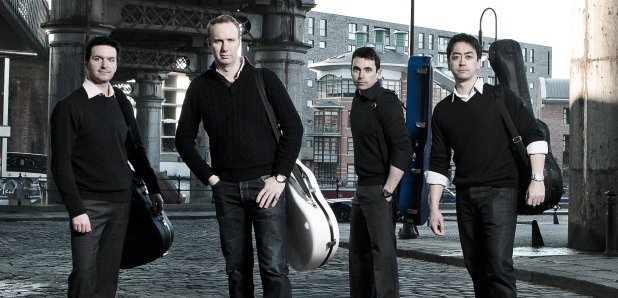 Guitarist Rory Russell broke his arm just as the group was in the process of winding up the recording process for the new album – a collection of film themes re-worked for guitar.
"There was a lot of concern," explains fellow guitarist James Jervis.
Recalling the accident, he continues: "It came about during the weekend of the absolutely horrendous weather in February when we'd just literally finished editing Final Cut. We were in the studio just putting the finishing touches to the CD when we broke for lunch.
"When we walked out of the studio Rory managed to slip down a very small flight of stairs but the way in he landed was obviously very awkward."
Taking up the story, Rory elaborates on the extent of his injury: "I broke both the bones in my arm and ended up having to have quite extensive surgery on my wrist to put in a plate to re-organise the bones. It was pretty scary at the time."
Such was the extent of Rory's injury that it looked as if the group might have to postpone their plans or, even worse for Rory, start looking for a stand-in.
"We were hugely relieved when we started rehearsing again and he was up to full capacity," says James.
"It was a serious doubt at one point as to what we were going to do between the four us and whether we were going to have to cancel engagements or even look for a replacement but thankfully everything is back as it was prior to the accident."
Aquarelle Guitar Quartet will resume their live activities as planned when they take the stage at the Blackheath Halls in London on June 24 ahead of playing a series of dates in July and September.
Their new album, Final Cut, is made up of unique guitar arrangements of famous film themes, including Schindler's List, the Cavatina from The Deer Hunter and also sorts of other favourites.
Listen to the full interview with the quartet below.