The Royal Shakespeare Company's Henry V at the Barbican
16 October 2015, 10:24
Book your tickets for the Royal Shakespeare Company's five-star production of Shakespeare's epic history play.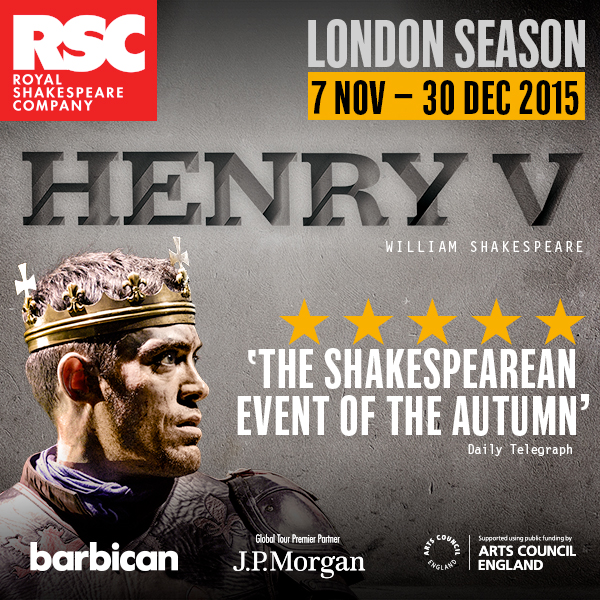 The Royal Shakespeare Company's London Season at the Barbican begins on 7 November with Henry V as their journey through Shakespeare's history plays continues.
Following their acclaimed productions of Richard II and Henry IV Parts I and II, Artistic Director Gregory Doran and the RSC creative team bring you the epic tale's conclusion in the 600th anniversary year of the Battle of Agincourt with Alex Hassell in the title role.
Henry IV is dead and Hal is King. With England in a state of unrest, he must leave his rebellious youth behind, striving to gain the respect of his nobility and people.

Laying claim to parts of France and following an insult from the French Dauphin, Henry gathers his troops and prepares for a war that he hopes will unite his country.
The Season will culminate in January 2016 with a major theatrical event to mark the 400th anniversary of Shakespeare's death: King and Country: Shakespeare's Great Cycle of Kings – a complete cycle of all four productions in repertoire.
David Tennant will return to the Barbican, reprising the title role in Richard II, joined by Antony Sher and Jasper Britton as Falstaff and Henry IV respectively in Henry IV Parts I & II. Alex Hassell reprises his role as Prince Hal in Henry IV Parts I & II and reaches maturity as King in Henry V.

For more information visit www.kingandcountry.org.uk