St George's Day
St George's Day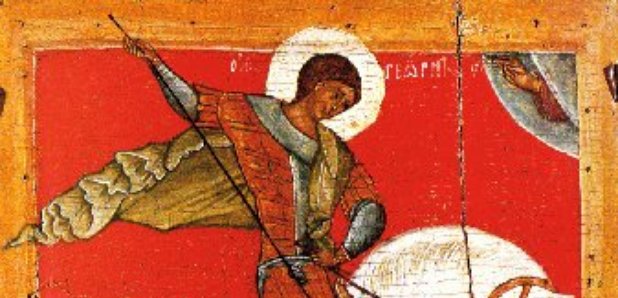 Who was St George and who celebrates his feast day on 23 April? Who was St George and who celebrates his feast day on 23 April?
St George is the patron saint of England and many other countries, including Russia, northern Spain and Ethiopia. St George's Day has been celebrated on 23 April, the supposed date of his death, since 1222.
We know little about him for certain, but he almost certainly did not kill a dragon.
In Catalonia it is traditional to give a rose and a book to a loved one to mark the national feast of St George. This practice inspired the date to be adopted for World Book Day. It has a further literary significance as William Shakespeare died on 23 April, 1616.
The familiar image of the cross of St George – a red cross on a white background - was introduced as the national flag of England in 1194 by King Richard I (Richard the Lion Heart).
George was made a saint some time around 900 AD. The earliest known British reference to him is in an account by St Adamnan, the 7th-century Abbot of Iona. St George is also mentioned in the writings of Bede.
In 1222, the Council of Oxford declared 23 April to be a 'lesser holiday' in honour of St George's Day. George was adopted as the patron of Edward III's new chivalrous order The Knights Of The Garter in 1348.
In 1415, April 23 was made a national feast day, to be observed like Christmas Day. However by the end of the 18th century the holiday was reduced to a day of devotion for Catholics in England.
Some sources maintain he was born a Christian in Cappadocia (now Eastern Turkey) around 270 AD, joined the Roman army at the age of 17, gaining renown for his bravery. He was beheaded himself for refusing to renounce his faith.
But Eusebius of Caesarea, writing around 322, told of a soldier of noble birth who was executed on April 23, 303AD - but did not refer to his name, country or origin or burial place.
The Legend of St George and the Dragon