Ahead of her performance with the Royal Scottish National Orchestra this weekend, Nicola gave us an exclusive guide to one of the greatest pieces for violin and orchestra ever written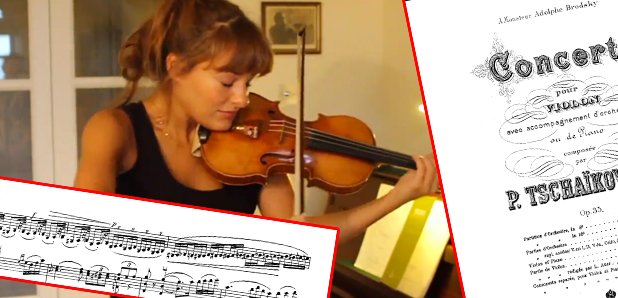 That iconic opening…
Tchaikovsky's Violin Concerto was written in 1878 and has since become one of the most popular pieces of music ever written. It also happens to have one of the most famous openings of any concerto. Here's Nicola to introduce the whole work.
Play
Nicola Benedetti on the opening of Tchaikovsky's Violin Concerto
The brilliant violinist talks us through one of the greatest pieces ever written for violin and orchestra
04:22
The terrifying moments for a soloist
This piece is, as Nicola says, a guaranteed crowd-pleaser – but it's also fiendishly difficult. We asked Nicola to show us which sections she found the most terrifying when she first started learning the monumental work.
Play
Nicola Benedetti on the terrifying moments of Tchaikovsky
Which moments in the violin concerto make soloists nervous?
02:11
'The violin was beaten black and blue'
One of the very first reviews of the concerto said the violin was 'beaten black and blue'… and, as Nicola explains, there's maybe a ring of truth about that!
Play
'The violin was beaten black and blue'
Nicola Benedetti tackles an early criticism of the great concerto
01:32
The tranquil second movement
After the thrills of the opening movement, the second movement of the concerto is a chance to take stock and catch your breath – with all the beautiful melodies you'd expect in Tchaikovsky's music.
Play
Tchaikovsky' violin concerto – the second movement
This brings a much-needed moment of calm, says Nicola Benedetti
01:51
Finally, the dramatic finale…
But that calm doesn't last for long – and with the third movement we're back into high-wire virtuoso territory, as Nicola demonstrates:
Play
The dramatic main theme of the finale of Tchaikovsky's Concerto
Nicola Benedetti demonstrates some of the fire-power of the finale
01:13
How does the piece end?
In Nicola's own words, this final movement just does not stop – and it's packed with virtuoso flourishes. She talked us through the exhausting final section:
Play
How does it end?
Nicola Benedetti demonstrates how this epic violin concerto comes to an end
02:22
And can we hear anything of Tchaikovsky's personal life in this music?
Tchaikovsky's personal life was often fairly troubled – when he wrote this piece he'd just come out of a pretty disastrous marriage. And the piece was written for a violinist friend – and maybe lover – of his called Iosif Kotek. But Tchaikovsky didn't dedicate the piece to him for fear of causing gossip. How much of that complicated personal life can we hear in this Violin Concerto?
Play
Is Tchaikovsky's personal life reflected in this music?
Nicola asks whether we can get any sense of Tchaikovsky's turbulent personal life in this piece
02:20
You can hear Nicola performing the Tchaikovsky Violin Concerto with the RSNO this Friday, in Edinburgh, and Saturday, in Glasgow. Her latest recording, of music by Shostakovich and Glazunov, is out now on Decca and available to buy on Amazon and iTunes.