Win tickets to see the Philharmonia Orchestra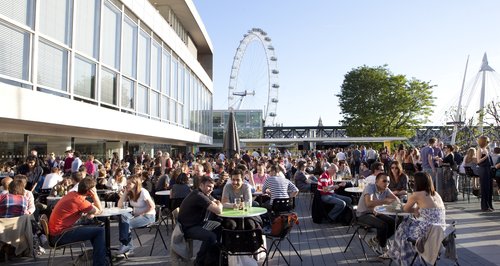 Join the Philharmonia Orchestra at London's Southbank Centre for a memorable evening of live music by the river - we've got five pairs of tickets to give away!
The orchestra's five summer concerts feature symphonies by Beethoven, Mahler and Shostakovich, Fauré's Requiem, and piano concertos by Mozart and Rachmaninov. To be in with a chance of winning a pair of tickets to the concert on June 21st, all you have to do is correctly answer the question below.

Thursday 25th May, 7:30pm
Herbert Blomstedt - conductor
Martin Helmchen - piano
Brahms - Piano Concerto No. 1
Beethoven - Symphony No. 7

Beethoven's Seventh Symphony is a perennial favourite, full of energy and dancing rhythms.

Thursday 1st June, 7:30pm
Gustavo Gimeno - conductor
Lawrence Power - viola
Ligeti - Concert Românesc
Salonen - Pentatonic Etude
Bartók - Viola Concerto
Mahler - Symphony No. 1

Hear Mahler's testament to the adventures and misadventures of youth, and Ligeti's response to the folk music of his Transylvanian childhood.

Sunday 4 June, 7:30pm
Jérémie Rhorer conductor
Elizabeth Watts soprano
Jean-Sébastien Bou baritone
Rodolfus Choir
Duruflé - Requiem
Fauré - Requiem

These two glorious Requiems both end with ethereal treble voices singing of paradise – music of comfort and compassion.

Thursday 8 June, 7.30pm
Christoph von Dohnányi - conductor
Till Fellner - piano
Mendelssohn - Overture, The Hebrides
Mozart - Piano Concerto No. 20, K466
Schumann - Symphony No. 2

Enjoy Mendelssohn's travel memoir, Schumann's coded love-letter to his wife, and a concerto written for Mozart's own dazzling performances.

Wednesday 21 June, 7.30pm
Yuri Temirkanov - conductor
Denis Kozhukhin - piano
Liadov - Kikimora
Rachmaninov - Piano Concerto No. 2
Shostakovich - Symphony No. 5

The sweeping melodies of Rachmaninov's beloved piano concerto will have you humming all the way home.

Tickets £11-£55 (booking fees apply): book now at philharmonia.co.uk/summer, or call 0800 652 6717.