Win A Top Notch Night In London
Jeeves and Wooster are back…

Jeeves and the Wedding Bells is the new, gloriously witty novel by Sebastian Faulks using P.G. Wodehouse's much-loved characters. To celebrate the publication we've paired up with the new stage play; Jeeves & Wooster in 'Perfect Nonsense', starring Matthew Macfadyen and Stephen Mangan, and Brown's hotel in Mayfair to give you the chance to enjoy a spiffing evening in London!

Evoking the sunlit days of a time gone by, Jeeves and the Wedding Bells is a delightful story of mistaken identity, a midsummer village festival, a cricket match and love triumphant. A perfect joy one might say!



So pop your most dapper reading glasses on and purchase your copy online at waterstones.com or at your local Waterstones bookshop.

One can also find out more about Jeeves and the Wedding Bells at wodehouse.co.uk and sebastianfaulks.com

You can also become a fan at facebook.com/wodehousepage and follow @wodehouseoffice on Twitter.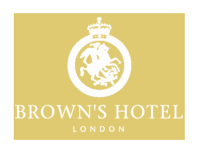 Win a Bertie Wooster night in London
With the release of this most delightfully superb new novel we just couldn't resist bringing you a topper competition.

You could win a copy of Jeeves and the Wedding Bells signed by Sebastian Faulks, and a pair of tickets for Jeeves and Wooster in 'Perfect Nonsense' at the dashing Duke of York's Theatre in London.

You'll enjoy a pre-theatre supper at HIX Mayfair in Brown's Hotel from their delightful a la Carte menu with a bottle of wine selected by the Sommelier. And after the show you'll stay at Brown's Hotel in the heart of Mayfair in an absolutely super deluxe room with a good old full English brekkers in the morning.

Simply answer our question below for your chance to win.

Competition closes at 23:59 on 14th November 2013.
Find out more about Perfect Nonsense at www.jeevesandwoosterplay.com

Find out more about Brown's hotel in Mayfair at www.brownshotel.com