Discover Queensland
A trip to Queensland is more than a break away from the every day, it's a journey to enrich your life and give you the chance to fully immerse yourself in the enviable Queensland lifestyle.
Queensland is a year round holiday destination, with some of the best beaches in the world, with year round sunshine, friendly locals and wide open spaces.
Escape to one of the most beautiful places on earth; The Great Barrier Reef. Home to an abundance of marine wildlife, world-class resorts and pristine beaches, this natural wonder has something to offer everyone, from adventure experiences to simply sitting back and relaxing.
Dive through the colourful coral cities of the World Heritage listed Great Barrier Reef, then get up close and personal with the friendly locals – wild bottle nosed dolphins, mighty humpback whales and nesting sea turtles along the Queensland coast. Dine on fresh seafood at a local surf club or take a surf lesson and try to catch your first wave. Build a sandcastle empire, learn the ropes and sail your own yacht, or simply relax while someone else does the navigating.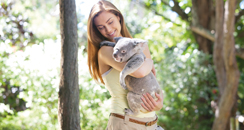 Queensland is renowned for its wildlife and is home to some Australian icons including the koala and the kangaroo. Visit a wildlife sanctuary for your chance to hand feed kangaroos or cuddle a koala, one of only two states in the whole of Australia that offers this opportunity. Unsurprisingly, the state is also a fantastic place to view some incredible marine wildlife. Feed wild dolphins on Moreton Island, swim with graceful green turtles on Lady Elliot Island, or dive amongst playful and colourful Maori Wrasses and clownfish on the Great Barrier Reef.
For more inspiration and to discover why Queensland is Where Australia Shines, visit www.experiencequeensland.com