Classic FM's 25th Birthday Commissions: the winners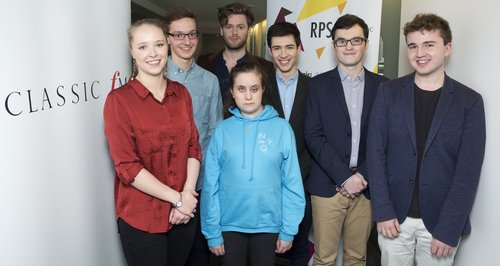 The seven winners of Classic FM's 25th Birthday Commissions competition have been announced.
Throughout 2017, we're celebrating Classic FM's 25th birthday with a series of special concerts and events. And to mark a quarter of a century of playing nothing but the very best classical music, we're looking to the future, and some of the outstanding musical talent right across the UK.
After announcing our 25th Birthday Commissions competition earlier this year in partnership with the Royal Philharmonic Society in order to commission six brand-new pieces of classical music, written by composers who are no older than Classic FM itself, the seven winners have now been decided.
The winners are: Alexander Woolf (21) and Alexia Sloane (16) from Cambridge; Jack Pepper (17) from Epsom; Benjamin Rimmer (23) from Stamford in Lincolnshire; Dani Howard (23), who was born in Hong Kong and now lives in London, Marco Galvani (22) from Prenton on the Wirral and Oliver Muxworthy (23) from Uckfield in East Sussex.
The entrants' work was considered by an eminent panel of judges, including Classic FM's Composer in Residence, Debbie Wiseman, composer for the wedding of the Duke and Duchess of Cambriddge, Paul Mealor.
Rosemary Johnson, executive director of the Royal Philharmonic Society, said: "How exciting it is to give these very young creative people such an interesting challenge and the opportunity to write for such big audiences. They have all demonstrated how up for it they are!"

Sam Jackson, Classic FM's managing editor said: "Over 350,000 Classic FM listeners are younger than the station itself – and in this, our 25th birthday year, we're so excited to be showcasing the music of these seven brilliant composers to our wider audience of 5.4 million people. The Royal Philharmonic Society very much shares Classic FM's mission of bringing classical music to as many people as possible, and their support of new music is second to none. Together, we're looking forward to seeing how these young musicians rise to the challenge of composing for Classic FM!"
Each composer will be allocated an event at which their piece will be premiered. These events include The Welsh Proms and Classic FM's 25th Birthday Celebration with the Royal Liverpool Philharmonic Orchestra. With varying ensemble sizes, each composer will be paid professional rates for their work, which will be recorded live and broadcast to Classic FM's 5.3 million listeners throughout the UK.
Classic FM and the Royal Philharmonic Society are grateful for the support of the Boltini Trust.