'Trust the maestro': Ron Howard on having ultra-confident Hans Zimmer compose the music to 'Inferno'
14 October 2016, 12:41 | Updated: 22 November 2016, 15:09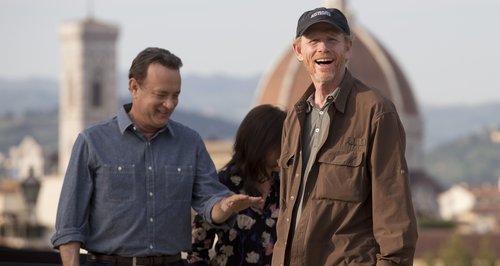 Andrew Collins speaks to Ron Howard, director of the new Dan Brown film adaptation, in Saturday Night at the Movies on October 15th 2016. He'll also play music from other book-to-film hits.
To mark the release of Inferno, based on Dan Brown's best-selling novel of the same name, Andrew Collins speaks to the director Ron Howard about bringing the author's books to life on the big screen.
We'll hear about Howard's intimate working partnership with composer Hans Zimmer, who scored The Da Vinci Code, its sequel Angels and Demons, and Inferno.
Andrew will also take a look at other recent book-to-film adaptation hits, with music from Room and Gone Girl. See a preview of his chat with Ron Howard below:
'Trust the maestro'
Howard tells Andrew Collins how Hans Zimmer talked him round when he wasn't sure about the musical direction of Inferno: "I was uncertain about [the music] at first. [Hans Zimmer] had to twist my arm a little bit. But he said, 'Obviously you trust the maestro.' And when I began hearing these finished tracks, I was really excited about them and knocked out."
James Horner's death
Howard opens up to Andrew Collins about the devastating death of James Horner in a plane crash last year:
"I really miss James," says Howard. "I always assumed we'd work together again... He had really fallen in love with flying.
"People don't realise what an avid hobbyist James was. He could make radio-controlled helicopters from scratch and fly them. He collected gemstones and he would go all over the world into caves. He was very sophisticated. You wouldn't think he'd be there in a cave with a pick and a helmet with a light on it finding these gems. But he had a vast collection.
"He'd really fallen in love with flying. That crash was devastating for me. But I knew from my last conversation with him that he was doing something that he truly loved."