Myleene Klass joins Matt Lucas for an epic rendition of 'Thank You Baked Potato', makes our day
12 April 2020, 14:08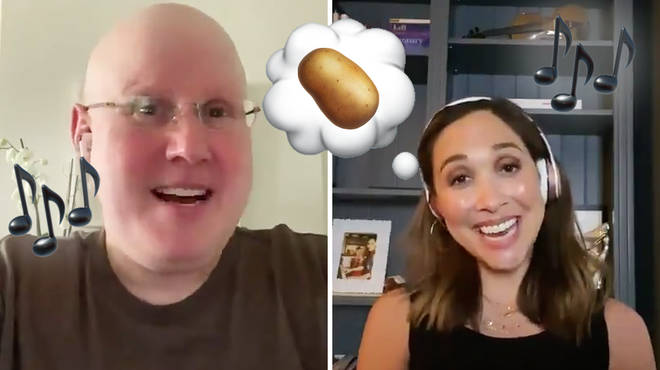 In a duet to end all duets, Matt and Myleene give Lucas' crowning coronavirus opus a charming bit of call-and-response, worthy of any master of polyphony.
Matt Lucas has teamed up with Classic FM's Myleene Klass for a special duet version of 'Thank You Baked Potato' (watch below).
In a duet to end all duets, Matt begins by singing "Baked Potato changed my life," adding a generous tone and a warm vibrato to the now-widely-known lyrics.
"Baked Potato showed me the way", Myleene responds beautifully.
Matt: "If you want to know what is wrong from right…"
Myleene: "…you listen to what Baked Potato say."
As the song continues, the potato tells us to wash our hands, stay indoors, only visit grocery stores – and keep some distance, make some space and remember not to touch your face. In the hands of Lucas and Klass, it's a masterly performance and a mighty powerful message.
Read more: Myleene Klass is giving online music lessons from home >
"If you want to have a better day," they sing. "You must listen to what Baked Potato say!"
Matt Lucas released his fine song, 'Thank You Baked Potato' on social media back at the end of March as a coronavirus PSA and a bit of a self-isolation pick-me-up for us all.
It was a viral sensation, and has since been turned into a chart-topping hit single to raise money for FeedNHS, a fundraising campaign aiming to support frontline NHS workers during the coronavirus crisis.
Click here for the latest coronavirus advice from the NHS >
Myleene is just one of several famous faces seen joining Matt for a virtual duet, including singer-songwriter Rick Astley and Gary Barlow of Take That fame.
Now, with all that excitement – we're off to listen to our potatoes! (And thank them of course...)
What are they lyrics to Matt Lucas' 'Thank You Baked Potato'?
Hello
Baked Potato changed my life
Baked Potato showed me the way
If you want to know what is wrong from right
You must listen to what Potato say
Wash your hands and stay indoors
Thank you Baked Potato
Only visit grocery stores
Thank you Baked Potato
And if you want to have a better day
You must listen to what the Baked Potato say
Keep your distance
Make some space
Thank you Baked Potato
Remember not to touch your face
Thank you Baked Potato
And if you want to have a better day
You must listen to what the Baked Potato say
B-A-K-E-D-P-O-T-A-T-O
Baked Potato