Downton Abbey: Lady Edith Crawley "might have been tempted" to go on Strictly Come Dancing, cast says
16 September 2019, 11:21 | Updated: 16 September 2019, 13:52
Downton Abbey's Hugh Bonneville, Michelle Dockery and Laura Carmichael speak exclusively to Classic FM's Catherine Bott about making the film – and music's part in the beloved drama.
Downton Abbey's Lord Grantham (Hugh Bonneville), Lady Mary Crawley (Michelle Dockery) and Lady Edith Crawley (Laura Carmichael) joined Catherine Bott on Everything You Ever Wanted to Know About Classical Music on Sunday 15 September.
Speaking about the new film – and how music has played a part in the series over time – the Downton cast revealed their favourite musical moments from the upstairs-downstairs saga.
In the video above, you can watch them reminisce about music that's featured in Downton – including the wonderful scene featuring New Zealand soprano Dame Kiri Te Kanawa playing Australian opera royalty, Dame Nellie Melba – and speculate about whether Lady Edith might be tempted to participate on 'Strictly Come Dancing', given the chance…
Read more: The music of Downton Abbey is basically Coldplay, according to its composer >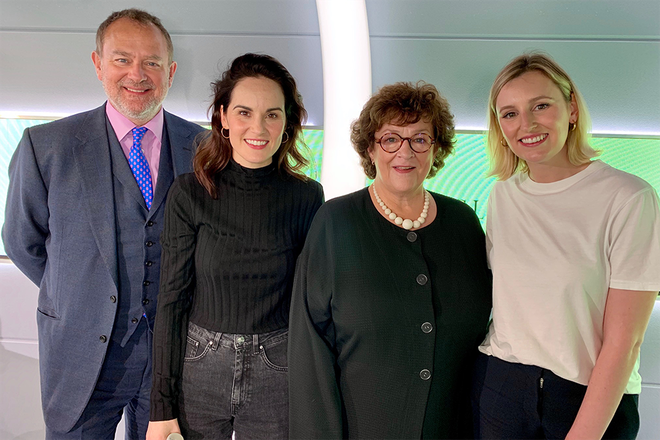 "How long did it take you all to get back into the Downton groove?," Catherine asks the cast.
"About 24 seconds," Bonneville laughs. "As soon as we came up the drive, we were back into the zone."
The Downton Abbey movie picks up with the aristocratic Crawley family ahead of an imminent visit by the King and Queen of England, and follows the household during the preparations.
While the film throws us back into Downton's irresistible early 20th-century setting, it's fun to speculate about how certain characters might react to more contemporary phenomena.
In light of the recent news that a member of England's aristocracy, Viscountess Emma Weymouth, will be appear on Strictly Come Dancing this year, Catherine can't resist asking if Downton's rather modern Lady Edith Crawley (Laura Carmichael) might also be tempted to appear, in an alternate universe.
"That's a hilarious thought," says Carmichael. "I don't know... yes she probably would, the little rebel! Edith and Bertie had a lovely dance in the film, so who knows."
"I'm not sure she would be good at the samba, but maybe the waltz," she adds.
The cast don't seem averse to the idea of Downton Strictly, and just quietly neither are we.
Catherine also reminisces about the moment in the TV series when Downton had what Catherine calls the "double dame moment". Dame Kiri Te Kanawa played real-life opera star from the 20s, Dame Nellie Melba, in the fourth series of Downton Abbey.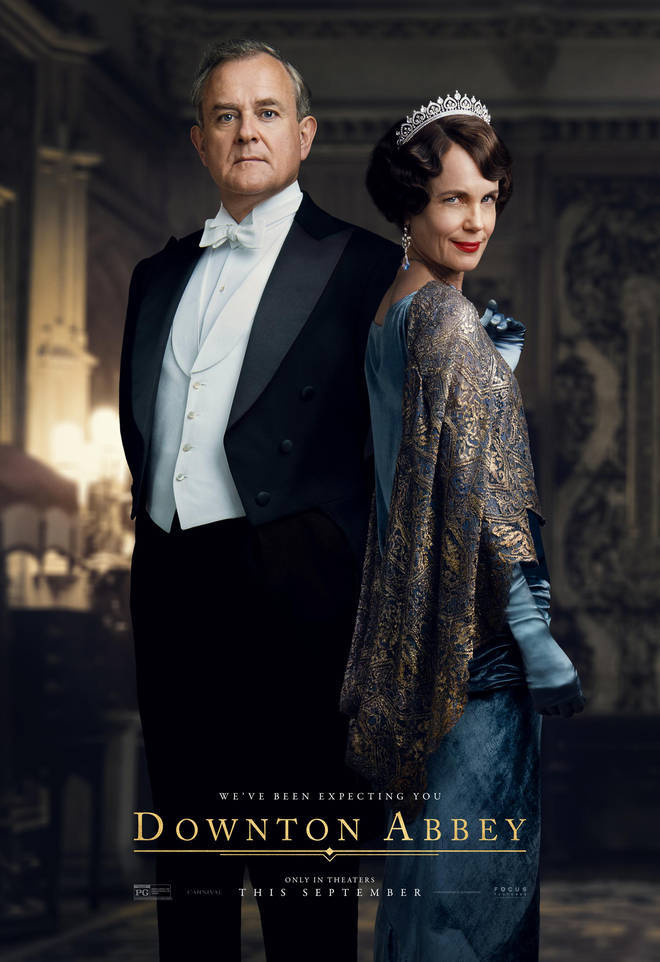 "I have to say, that was one of the most memorable moments of the entire series," Hugh Bonneville says. "To have Dame Kiri singing no further from me than you are now was quite special."
He continues: "You've never seen so many people crowded into the room. It was enchanting because she was rather nervous as film isn't her métier.
"We were really chuffed that she called her new puppy Abbey."
Read more: Dame Kiri Te Kanawa makes Downton Abbey cast cry >
Catherine also discusses Lady Mary's character with her actor Michelle Dockery.
A scene in the TV series sees Dockery as Lady Mary, singing 'If You Were the Only Girl in the World' by Nat D. Ayer.
"You don't just sing the famous chorus," Catherine says, "but also the verse that goes with it, which has beautiful words."
"I loved doing that scene," Dockery says.
"Those episodes were so moving in the second series," she says. "For Downton to have such a different atmosphere made those moments really special."
"And you have such a beautiful voice, too!" Carmichael next to her says. "We try and fit it in as much as possible."
Read more: Downton Abbey named nation's favourite classical TV theme after poll of Classic FM listeners >
The two reminisce about Lady Mary's singing in the Christmas episode too.
"I can see an album coming on," Hugh laughs. "Lady Mary's Christmas Hits."
We couldn't think of a better stocking filler – who do we have to talk to to make this happen?
Downton Abbey is out in cinemas now. Click here to catch up with Catherine Bott's Downton Abbey Special on Global Player.