Everything You Ever Wanted to Know about Classical Music, Sunday 6 March 2016, 9pm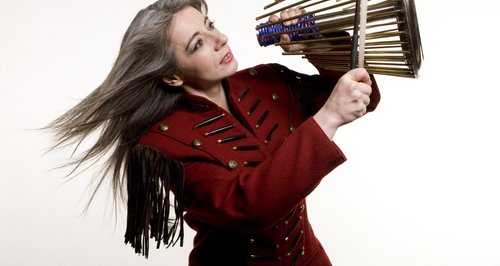 Catherine Bott lets rip on the percussion section.
This week, Catherine Bott explores the oldest of all musical instruments – those that can be hit, banged, shaken or scraped, as she asks: "How has percussion been used in orchestral writing throughout history?"
In her discoveries there'll be no shortage of timpani, snare and bass drums, cymbals, triangles and tambourines.
It was in the 20th century that composers really went to town with percussion, so expect dazzling displays in the music of Russians Kabalevsky and Prokofiev, Hungarians Bartok and Kodaly, and Frenchman Ravel – who drummers love to loathe for giving them so little to do in his Bolero.
There's Bach as you may not have heard him before, on the marimba, and the undisputed dame of percussionists, Evelyn Glennie (pictured).
Plus – listen out for the spectacular sound of twelve drummers playing simultaneously on Hans Zimmer's soundtrack for the movie Superman, Man of Steel. You may be surprised to learn that some of the biggest names in pop music – including Sheila E, Jason Bonham, and Pharrell Williams – are amongst them.
WATCH: Hans Zimmer hosts epic drum battle for Man of Steel sessions >