Classic FM Chart: Wonder Woman remains at no. 1 for second week in a row
18 June 2017, 18:55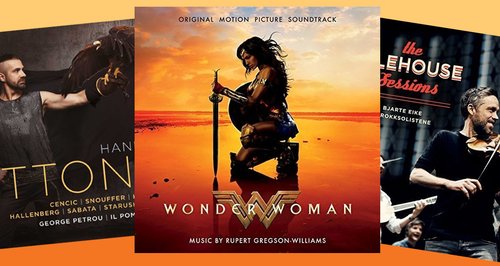 Wonder Woman is at no. 1 for the second week in a row, with The 50 Greatest Pieces of Classical Music and Peaceful Piano switching week on week between no. 2 and no. 3. The soundtrack for Alien: Covenant, which entered the chart last week at no. 6, has already dropped out the chart entirely. The rest of the top ten remains mostly the same, apart from a new entry at no. 9, The Alehouse Sessions, and the Lord of the Rings soundtrack which climbs back into the top ten again after dropping to no. 11 last week.
In the rest of the chart, the highest climber from outwith the chart is Einaudi's Uni Mattina which climbs nine places from no. 33 to no. 24, and the highest climber within the chart is 2Cellos' Score which rises seven places from no. 22 to no. 15. The two joint biggest fallers descend seven places each, leaving Ravel at no. 20 and the Rogue One soundtrack at no. 21.
Other than The Alehouse Sessions at no. 9, the only other new entry this week is the new Handel album conducted by George Petrou, plus five reentries.
This
Week
Last
Week
Title & Artist
1
1
WONDER WOMAN - OST, RUPERT GREGSON WILLIAMS


Buy from Amazon

-

Download from iTunes

2
3
THE 50 GREATEST PIECES OF CLASSICAL MUSIC, LPO/PARRY


Buy from Amazon

-

Download from iTunes

3
2
PEACEFUL PIANO, VARIOUS ARTISTS


Buy from Amazon

-

Download from iTunes

4
4
ISLANDS - ESSENTIAL EINAUDI, LUDOVICO EINAUDI


Buy from Amazon

-

Download from iTunes

5
8
CLASSIC FM HALL OF FAME - THE SILVER, VARIOUS ARTISTS


Buy from Amazon

-

Download from iTunes

6
7
LOVE IN VENICE, ANDRE RIEU & JOHANN STRAUSS OR


Buy from Amazon

-

Download from iTunes

7
9
ELEMENTS, LUDOVICO EINAUDI


Buy from Amazon

-

Download from iTunes

8
5
PIRATES OF THE CARIBBEAN- DEAD MEN - OST, GEOFF ZANELLI


Buy from Amazon

-

Download from iTunes

9
NEW
THE ALEHOUSE SESSIONS, BJARTE EIKE/BAROKKSOLISTENE


Buy from Amazon

-

Download from iTunes

10
11
THE LORD OF THE RINGS - TRILOGY - OST, HOWARD SHORE


Buy from Amazon

-

Download from iTunes

11
10
IN A TIME LAPSE, LUDOVICO EINAUDI


Buy from Amazon

-

Download from iTunes

12
14
THE LITTLE MERMAID - OST, ALAN MENKEN


Buy from Amazon

-

Download from iTunes

13
RE
PROKOFIEV/PETER AND THE WOLF, BOWIE/PHILADELPHIA OR/ORMANDY


Buy from Amazon

-

Download from iTunes

14
15
NORTHERN LIGHTS, CANTUS


Buy from Amazon

-

Download from iTunes

15
17
GLADIATOR - OST, HANS ZIMMER & LISA GERRARD


Buy from Amazon

-

Download from iTunes

16
22
SCORE, 2CELLOS


Buy from Amazon

-

Download from iTunes

17
21
GAME OF THRONES - SEASON 6 - OST, RAMIN DJAWADI


Buy from Amazon

-

Download from iTunes

18
11
THE LORD OF THE RINGS - TRILOGY - OST, HOWARD SHORE


Buy from Amazon

-

Download from iTunes

19
RE
THE BLUE NOTEBOOKS, MAX RICHTER


Buy from Amazon

-

Download from iTunes

20
12
RAVEL/FALLA/PIANO CONCERTOS, OSBOURNE/BBC SCOTTISH SO


Buy from Amazon

-

Download from iTunes

21
13
ROGUE ONE - A STAR WARS STORY - OST, MICHAEL GIACCHINO


Buy from Amazon

-

Download from iTunes

22
18
CINEMA, ANDREA BOCELLI


Buy from Amazon

-

Download from iTunes

23
25
DIVENIRE, LUDOVICO EINAUDI


Buy from Amazon

-

Download from iTunes

24
23
SLEEP, MAX RICHTER


Buy from Amazon

-

Download from iTunes

25
RE
UNA MATTINA, LUDOVICO EINAUDI


Buy from Amazon

-

Download from iTunes

26
26
THE LEFTOVERS - SEASON 1 - OST, MAX RICHTER


Buy from Amazon

-

Download from iTunes

27
NEW
HANDEL/OTTONE, CENCIC/POMO D'ORO/PETROU


Buy from Amazon

-

Download from iTunes

28
RE
STAR WARS - THE FORCE AWAKENS - OST, JOHN WILLIAMS


Buy from Amazon

-

Download from iTunes

29
RE
ZIMMER/THE CLASSICS, VARIOUS ARTISTS


Buy from Amazon

-

Download from iTunes

30
RE
POLDARK - OST, ANNE DUDLEY


Buy from Amazon

-

Download from iTunes