Classic FM Chart: Vangelis soars to the top 3 with new album 'Nocturne'
3 February 2019, 18:55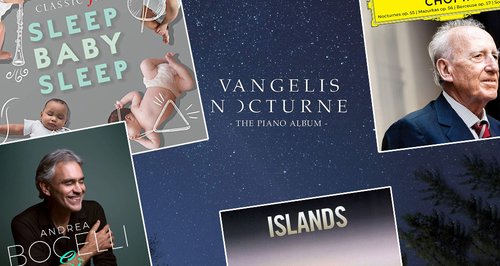 Vangelis jumps to the top of the chart with his new release 'Nocturne', behind Andrea Bocelli and André Rieu.
It's a refreshing change to the top three this week as a new release, Nocturne by Greek composer Vangelis jumps in at No. 3. He sits behind Andrea Bocelli and André Rieu, and ahead of Katherine Jenkins, duo Aled Jones & Russell Watson and Ludovico Einaudi.
Einaudi's popularity rises this week too, as his album Islands moves up to No. 6 and I Giorni re-enters at No. 26. This brings his total number of albums on the chart to six, more than any other composer or artist.
Other new chart entries are Classic FM's new relaxing release Sleep Baby Sleep and a Deutsche Grammophon recording of Maurizio Pollini playing Chopin.
This
Week
Last
Week
Title & Artist
1
1
SI, ANDREA BOCELLI


Download from iTunes

-

Buy from Amazon

2
2
ROMANTIC MOMENTS II, ANDRE RIEU & JOHANN STRAUSS OR


Download from iTunes

-

Buy from Amazon

3
NEW
NOCTURNE, VANGELIS


Download from iTunes

-

Buy from Amazon

4
3
GUIDING LIGHT, KATHERINE JENKINS


Download from iTunes

-

Buy from Amazon

5
4
IN HARMONY, ALED JONES & RUSSELL WATSON


Download from iTunes

-

Buy from Amazon

6
7
ISLANDS - ESSENTIAL EINAUDI, LUDOVICO EINAUDI


Download from iTunes

-

Buy from Amazon

7
6
THE ULTIMATE CLASSICAL COLLECTION, VARIOUS ARTISTS


Download from iTunes

-

Buy from Amazon

8
5
ENCHANTED ISLE, VOCES8


Download from iTunes

-

Buy from Amazon

9
10
THE 50 GREATEST PIECES OF CLASSICAL, LPO/PARRY


Download from iTunes

-

Buy from Amazon

10
11
DIVENIRE, LUDOVICO EINAUDI


Download from iTunes

-

Buy from Amazon

11
15
SLEEP, MAX RICHTER


Download from iTunes

-

Buy from Amazon

12
12
THE LITTLE MERMAID - OST, ALAN MENKEN


Download from iTunes

-

Buy from Amazon

13
9
EVOLUTION, ALEXIS FFRENCH


Download from iTunes

-

Buy from Amazon

14
14
THE LORD OF THE RINGS - TRILOGY - OST, HOWARD SHORE
15
16
THE REAL CLASSICAL, VARIOUS ARTISTS


Buy from Amazon

16
17
IN A TIME LAPSE, LUDOVICO EINAUDI


Download from iTunes

-

Buy from Amazon

17
19
THE LORD OF THE RINGS - OST, HOWARD SHORE
18
18
THE BLUE NOTEBOOKS, MAX RICHTER


Download from iTunes

-

Buy from Amazon

19
NEW
SLEEP BABY SLEEP, RPO/MORGAN


Download from iTunes

-

Buy from Amazon

20
20
ELEMENTS, LUDOVICO EINAUDI


Download from iTunes

-

Buy from Amazon

21
22
GLADIATOR - OST, HANS ZIMMER & LISA GERRARD


Download from iTunes

-

Buy from Amazon

22
13
MARY QUEEN OF SCOTS - OST, MAX RICHTER


Download from iTunes

-

Buy from Amazon

23
24
UNA MATTINA, LUDOVICO EINAUDI


Download from iTunes

-

Buy from Amazon

24
21
INSPIRATION, SHEKU KANNEH-MASON


Download from iTunes

-

Buy from Amazon

25
RE
CLASSICAL CHILLOUT, VARIOUS ARTISTS


Download from iTunes

-

Buy from Amazon

26
RE
I GIORNI, LUDOVICO EINAUDI


Download from iTunes

-

Buy from Amazon

27
RE
SCORE, 2CELLOS


Download from iTunes

-

Buy from Amazon

28
26
GAME OF THRONES - SEASON 6 - OST, RAMIN DJAWADI


Download from iTunes

-

Buy from Amazon

29
RE
THE VERY BEST OF, KARL JENKINS


Download from iTunes

-

Buy from Amazon

30
NEW
CHOPIN/NOCTURNES/MAZURKAS/BERCEUSE, MAURIZIO POLLINI


Download from iTunes

-

Buy from Amazon