Classic FM Chart: Sheku Kanneh-Mason and Ludovico Einaudi hold onto the top spots
29 July 2018, 18:55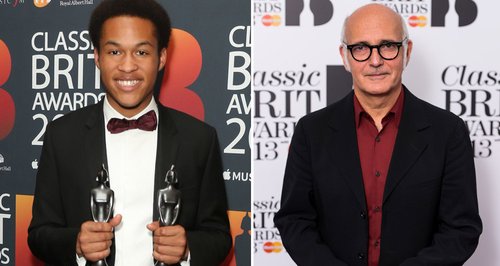 The cellist and composer-pianist reign supreme in the Classic FM Chart, as they hold the No. 1 and No. 2 positions for the fourth consecutive week.
Today (29 July) marks Sheku's tenth week at No. 1, as his debut album Inspiration continues to fly off the proverbial shelves.
La Serenissima's recording of Vivaldi's Double Concertos for Oboes with Adrian Chandler has entered the chart at No. 3, just behind Kanneh-Mason and Einaudi. The rest of the top 10 stays fairly static, with the soundtracks to Incredibles 2 and The Little Mermaid up one place each at No. 4 and 5.
The second and only other new entry in the chart is Takacs Quartet's recording of Beethoven's Late String Quartets, which has landed at No. 16.
Meanwhile, music from the Royal Wedding proves as popular as ever, with the official 2018 album still in the chart at No. 20 – 10 weeks after the wedding of the Duke and Duchess of Sussex.
This
Week
Last
Week
Title & Artist
1
1
INSPIRATION, SHEKU KANNEH-MASON


Download from iTunes

-

Buy from Amazon

2
2
ISLANDS - ESSENTIAL EINAUDI, LUDOVICO EINAUDI


Download from iTunes

-

Buy from Amazon

3
NEW
VIVALDI X2 - DOUBLE CONCERTOS FOR OBOES, LA SERENISSIMA/ADRIAN CHANDLER


Buy from Amazon

4
3
INCREDIBLES 2 - OST, MICHAEL GIACCHINO


Download from iTunes

-

Buy from Amazon

5
4
THE LITTLE MERMAID - OST, ALAN MENKEN


Download from iTunes

-

Buy from Amazon

6
10
THE BLUE NOTEBOOKS, MAX RICHTER


Download from iTunes

-

Buy from Amazon

7
6
SCORE, 2CELLOS


Download from iTunes

-

Buy from Amazon

8
8
SLEEP, MAX RICHTER


Download from iTunes

-

Buy from Amazon

9
11
THE 50 GREATEST PIECES OF CLASSICAL, LPO/PARRY


Download from iTunes

-

Buy from Amazon

10
15
GLADIATOR - OST, HANS ZIMMER & LISA GERRARD


Download from iTunes

-

Buy from Amazon

11
9
THE LORD OF THE RINGS - TRILOGY - OST, HOWARD SHORE


Download from iTunes

-

Buy from Amazon

12
12
DIVENIRE, LUDOVICO EINAUDI


Download from iTunes

-

Buy from Amazon

13
5
JOHN WILLIAMS - A LIFE IN MUSIC, LSO/GREENAWAY


Download from iTunes

-

Buy from Amazon

14
7
IN A TIME LAPSE, LUDOVICO EINAUDI


Download from iTunes

-

Buy from Amazon

15
13
ELEMENTS, LUDOVICO EINAUDI


Download from iTunes

-

Buy from Amazon

16
NEW
BEETHOVEN/THE LATE STRING QUARTETS, TAKACS QUARTET


Download from iTunes

-

Buy from Amazon

17
14
THE LORD OF THE RINGS - OST, HOWARD SHORE
18
16
POLDARK - OST, ANNE DUDLEY


Download from iTunes

-

Buy from Amazon

19
20
SOLO - A STAR WARS STORY, JOHN WILLIAMS/JOHN POWELL


Download from iTunes

-

Buy from Amazon

20
18
THE ROYAL WEDDING - OFFICIAL ALBUM 2018, VARIOUS ARTISTS


Download from iTunes

-

Buy from Amazon

21
23
GAME OF THRONES - SEASON 6 - OST, RAMIN DJAWADI


Download from iTunes

-

Buy from Amazon

22
28
GAME OF THRONES - SEASON 7 - OST, RAMIN DJAWADI


Download from iTunes

-

Buy from Amazon

23
26
CLASSICAL CHILLOUT, VARIOUS ARTISTS


Download from iTunes

-

Buy from Amazon

24
RE
STEPHEN HOUGH'S DREAM ALBUM, STEPHEN HOUGH


Download from iTunes

-

Buy from Amazon

25
27
I GIORNI, LUDOVICO EINAUDI


Download from iTunes

-

Buy from Amazon

26
24
UNA MATTINA, LUDOVICO EINAUDI


Download from iTunes

-

Buy from Amazon

27
17
AMORE, ANDRE RIEU


Download from iTunes

-

Buy from Amazon

28
RE
THE COMPLETE HARRY POTTER FILM MUSIC, CITY OF PRAGUE PO


Download from iTunes

-

Buy from Amazon

29
30
AVENGERS - INFINITY WAR - OST, ALAN SILVESTRI


Download from iTunes

-

Buy from Amazon

30
RE
FINZI/DIES NATALIS, GILCHRIST/BOURNEMOUTH SO/HILL


Download from iTunes

-

Buy from Amazon