Classic FM Chart: Ready Player One is a new entry at Number One!
8 April 2018, 18:55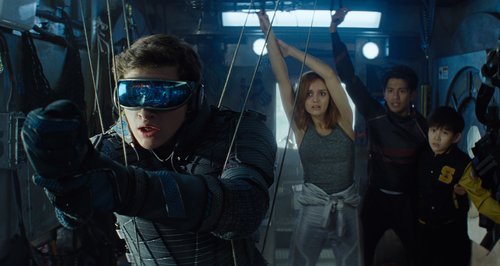 This week in the Classic FM Chart, there's a brand-new release at No. 1: Alan Silvestri's soundtrack to the movie Ready Player One.
The Classic FM Chart has two new entries at No. 1 and No. 2 this week, with Alan Silvestri's soundtrack to Ready Player One and Blake's Anniversary Album leaping into the top two positions. The Glorious Garden by Alan Titchmarsh and Debbie Wiseman has fallen three places from No. 1 to No. 4.
There are several other new entries in the Chart, including The Silver Edition of The Classic FM Hall of Fame at No. 7. A brand-new No. 1 was announced in the Classic FM Hall of Fame last weekend, when Tchaikovsky's 1812 Overture leapt up five places from No. 6 to No. 1.
This
Week
Last
Week
Title & Artist
NEW
READY PLAYER ONE - OST, ALAN SILVESTRI


Buy from Amazon

-

Download from iTunes

NEW
THE ANNIVERSARY ALBUM, BLAKE


Buy from Amazon

-

Download from iTunes

2
ISLANDS - ESSENTIAL EINAUDI, LUDOVICO EINAUDI


Buy from Amazon

-

Download from iTunes

1
THE GLORIOUS GARDEN, TITCHMARSH/NATIONAL SO/WISEMAN


Buy from Amazon

-

Download from iTunes

3
SLEEP, MAX RICHTER


Buy from Amazon

-

Download from iTunes

4
INSPIRATION, SHEKU KANNEH-MASON


Buy from Amazon

-

Download from iTunes

CLASSIC FM HALL OF FAME - THE SILVER, VARIOUS ARTISTS


Buy from Amazon

-

Download from iTunes

BRAHMS/THE SYMPHONIES, SCOTTISH CO/TICCIATI


Buy from Amazon

-

Download from iTunes

8
THE LITTLE MERMAID - OST, ALAN MENKEN


Buy from Amazon

-

Download from iTunes

5
AMORE, ANDRE RIEU


Buy from Amazon

-

Download from iTunes

6
STAR WARS - THE LAST JEDI - OST, JOHN WILLIAMS


Buy from Amazon

-

Download from iTunes

11
THE LORD OF THE RINGS - TRILOGY - OST, HOWARD SHORE


Buy from Amazon

-

Download from iTunes

16
ELEMENTS, LUDOVICO EINAUDI


Buy from Amazon

-

Download from iTunes

23
JUSTICE LEAGUE - OST, DANNY ELFMAN


Buy from Amazon

-

Download from iTunes

12
DIVENIRE, LUDOVICO EINAUDI


Buy from Amazon

-

Download from iTunes

10
THE 50 GREATEST PIECES OF CLASSICAL, LPO/PARRY


Buy from Amazon

-

Download from iTunes

NEW
MOZART/VIOLIN SONATAS/NO 6 IN G MAJOR, IBRAGIMOVA/TIBERGHIEN


Buy from Amazon

-

Download from iTunes

NEW
ENGLISH MOTETS, GESUALDO SIX/PARK


Buy from Amazon

-

Download from iTunes

15
GLADIATOR - OST, HANS ZIMMER & LISA GERRARD


Buy from Amazon

-

Download from iTunes

13
IN A TIME LAPSE, LUDOVICO EINAUDI


Buy from Amazon

-

Download from iTunes

17
THE LORD OF THE RINGS - OST, HOWARD SHORE


Buy from Amazon

-

Download from iTunes

18
SCORE, 2CELLOS


Buy from Amazon

-

Download from iTunes

29
THE ARMED MAN - A MASS FOR PEACE, KARL JENKINS


Buy from Amazon

-

Download from iTunes

RE
PULSE/QUARTET, STEVE REICH


Buy from Amazon

-

Download from iTunes

NEW
MEDIEVAL CHANT TALLIS LAMENTATIONS, TENEBRAE & NIGEL SHORT


Buy from Amazon

-

Download from iTunes

28
GAME OF THRONES - SEASON 6 - OST, RAMIN DJAWADI


Buy from Amazon

-

Download from iTunes

26
UNA MATTINA, LUDOVICO EINAUDI


Buy from Amazon

-

Download from iTunes

NEW
COUPERIN/DANCES FROM THE BAUYN, PAVEL KOLESNIKOV


Buy from Amazon

-

Download from iTunes

RE
RECOMPOSED BY MAX RICHTER/VIVALDI - FOUR, HOPE/KONZERTHAUS CO/RIDDER


Buy from Amazon

-

Download from iTunes

27
GAME OF THRONES - SEASON 7 - OST, RAMIN DJAWADI


Buy from Amazon

-

Download from iTunes