Classic FM Chart: Spiderman: Homecoming enters the chart and goes straight to no. 1
16 July 2017, 18:55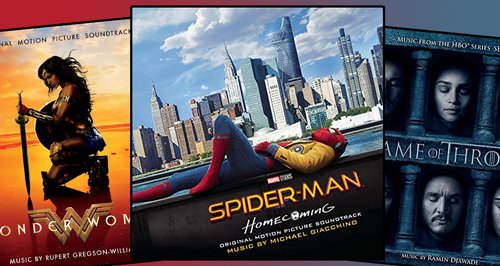 Michael Giacchino's soundtrack for Spiderman: Homecoming has entered the Classic FM Chart straight at no. 1, pushing Einaudi's Islands down to no. 2. Carly Paoli is a non-mover this week at no. 3, while the soundtrack to Wonder Woman drops five places from no. 2 to no. 7. Ramin Djawadi's soundtrack to Game of Thrones: Season 6 continues to climb up the Classic FM Chart in anticipation of the new season starting tonight, and this evening the soundtrack climbs back just inside the top 10. The top 10 also features re-entries from Max Richter's Three Worlds: Music from Woolf Works at no. 6 and 40 Most Beautiful Arias at no. 10.
There is a further four new entries in the middle of the chart, including Poulenc with the Sixteen at no. 12, Elgar conducted by Daniel Barenboim at no. 14, Behind the Counter by Max Richter at no. 20 and Peter Gregson's One at no. 21. Meanwhile, there are three other re-entries, including The 40 Most Beautiful Classical Masterpieces at no. 13, plus Max Richter's soundtrack to season one of The Leftovers at no. 22 and his album Sleep at no. 26.
This week's biggest faller is hotly contested between Kathleen Ferrier's Remembered which is down thirteen places, Love in Venice which drops twelve places and Craig Ogden's Summertime Deluxe falling eleven places, meanwhile for the second week in a row there isn't a stand out highest climber in the Classic FM Chart.
This
Week
Last
Week
Title & Artist
1
NEW
SPIDER-MAN - HOMECOMING - OST, MICHAEL GIACCHINO


Buy from Amazon

-

Download from iTunes

2
1
ISLANDS - ESSENTIAL EINAUDI, LUDOVICO EINAUDI


Buy from Amazon

-

Download from iTunes

3
3
SINGING MY DREAMS, CARLY PAOLI


Buy from Amazon

-

Download from iTunes

4
5
PEACEFUL PIANO, VARIOUS ARTISTS


Buy from Amazon

-

Download from iTunes

5
9
THE 50 GREATEST PIECES OF CLASSICAL MUSIC, LPO/PARRY


Buy from Amazon

-

Download from iTunes

6
RE
THREE WORLDS - MUSIC FROM WOOLF WORKS, MAX RICHTER


Buy from Amazon

-

Download from iTunes

7
2
WONDER WOMAN - OST, RUPERT GREGSON WILLIAMS


Buy from Amazon

-

Download from iTunes

8
8
ELEMENTS, LUDOVICO EINAUDI


Buy from Amazon

-

Download from iTunes

9
11
GAME OF THRONES - SEASON 6 - OST, RAMIN DJAWADI


Buy from Amazon

-

Download from iTunes

10
RE
40 MOST BEAUTIFUL ARIAS, VARIOUS ARTISTS


Buy from Amazon

-

Download from iTunes

11
15
CINEMA, ANDREA BOCELLI


Buy from Amazon

-

Download from iTunes

12
NEW
POULENC/MASS IN G/UN SOIR DE NEIGE, SIXTEEN/CHRISTOPHERS


Buy from Amazon

-

Download from iTunes

13
RE
40 MOST BEAUTIFUL CLASSICAL MASTERPIECES, VARIOUS ARTISTS


Buy from Amazon

-

Download from iTunes

14
NEW
ELGAR/THE DREAM OF GERONTIUS, STAATSKAPELLE BERLIN/BARENBOIM


Buy from Amazon

-

Download from iTunes

15
4
SUMMERTIME, CRAIG OGDEN


Buy from Amazon

-

Download from iTunes

16
13
GLADIATOR - OST, HANS ZIMMER & LISA GERRARD


Buy from Amazon

-

Download from iTunes

17
16
THE LITTLE MERMAID - OST, ALAN MENKEN


Buy from Amazon

-

Download from iTunes

18
20
IN A TIME LAPSE, LUDOVICO EINAUDI


Buy from Amazon

-

Download from iTunes

19
14
THE LORD OF THE RINGS - TRILOGY - OST, HOWARD SHORE


Buy from Amazon

-

Download from iTunes

20
NEW
BEHIND THE COUNTER WITH MAX RICHTER, VARIOUS ARTISTS


Buy from Amazon

-

Download from iTunes

21
NEW
GREGSON/QUARTETS - ONE, ZIELINSKI/HARWOOD/CASSIDY


Buy from Amazon

-

Download from iTunes

22
RE
THE LEFTOVERS - SEASON 1 - OST, MAX RICHTER


Buy from Amazon

-

Download from iTunes

23
27
POLDARK - OST, ANNE DUDLEY


Buy from Amazon

-

Download from iTunes

24
17
CLASSIC FM HALL OF FAME - THE SILVER, VARIOUS ARTISTS


Buy from Amazon

-

Download from iTunes

25
12
REMEMBERED, KATHLEEN FERRIER


Buy from Amazon

-

Download from iTunes

26
RE
SLEEP, MAX RICHTER


Buy from Amazon

-

Download from iTunes

27
24
THE BLUE NOTEBOOKS, MAX RICHTER


Buy from Amazon

-

Download from iTunes

28
23
STRAUSS/THROUGH LIFE & LOVE, ALDER/MIDDLETON


Buy from Amazon

-

Download from iTunes

29
21
SONGS BY DONALD SWANN, LOTT/RUDGE/AINSLEY/WILLIAMS


Buy from Amazon

-

Download from iTunes

30
18
LOVE IN VENICE, ANDRE RIEU & JOHANN STRAUSS OR


Buy from Amazon

-

Download from iTunes