Classic FM Chart: Pavarotti pushed to No. 2, plus a new Bach recording in the top 5
11 August 2019, 18:55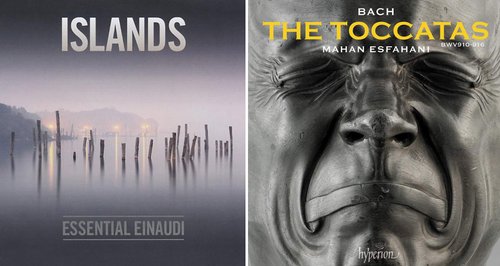 This week's Classic FM Chart enjoys a significant amount of movement, with only two albums remaining in the same position as last week.
Einaudi has claimed the No. 1 spot in the chart, as the Italian composer-pianist's popular Islands album pips the popular Pavarotti movie soundtrack to the post. Plus, there's a new Bach recording at No. 5: The Toccatas, by Iranian harpsichord player Mahan Esfahani.
Sheku Kanneh-Mason, the world's favourite royal wedding cellist, is back in the game with his debut album Inspiration clocking in at No. 18, while his sister Isata Kanneh-Mason's debut album of piano music by Clara Schumann has jumped back up to No. 9.
We also see three new entries further down in the chart: Maxwell Davies' Suite from The Boyfriend; A Song of Agincourt, a new recording of a few of Stanford's finest occasional pieces; and The Jupiter Project, a re-creation of how Mozart's large-scale orchestral works might have been encountered in Georgian Britain.
This
Week
Last
Week
Title & Artist
1
2
ISLANDS - ESSENTIAL EINAUDI, LUDOVICO EINAUDI


Download from iTunes

-

Buy from Amazon

2
1
PAVAROTTI - OST, LUCIANO PAVAROTTI


Download from iTunes

-

Buy from Amazon

3
4
SEVEN DAYS WALKING - DAY ONE, LUDOVICO EINAUDI


Download from iTunes

-

Buy from Amazon

4
3
SI, ANDREA BOCELLI


Download from iTunes

-

Buy from Amazon

5
NEW
BACH/THE TOCCATAS, MAHAN ESFAHANI


Download from iTunes

-

Buy from Amazon

6
8
THE LITTLE MERMAID - OST, ALAN MENKEN


Download from iTunes

-

Buy from Amazon

7
9
GAME OF THRONES - SEASON 8 - OST, RAMIN DJAWADI


Download from iTunes

-

Buy from Amazon

8
11
100 HITS - THE BEST CLASSICAL ALBUM, VARIOUS ARTISTS


Buy from Amazon

9
22
ROMANCE - THE PIANO MUSIC OF CLARA, ISATA KANNEH-MASON


Download from iTunes

-

Buy from Amazon

10
10
AVENGERS - ENDGAME - OST, ALAN SILVESTRI


Download from iTunes

-

Buy from Amazon

11
5
MARSALIS/VIOLIN CONCERTO/FIDDLE DANCE, BENEDETTI/PHIL OR/MACELARU


Download from iTunes

-

Buy from Amazon

12
14
IN A TIME LAPSE, LUDOVICO EINAUDI


Download from iTunes

-

Buy from Amazon

13
12
THE LORD OF THE RINGS - TRILOGY - OST, HOWARD SHORE
14
13
SLEEP, MAX RICHTER


Download from iTunes

-

Buy from Amazon

15
7
THE GREATEST HITS, LUCIANO PAVAROTTI


Download from iTunes

-

Buy from Amazon

16
6
SEVEN DAYS WALKING - DAY FIVE, LUDOVICO EINAUDI


Download from iTunes

17
18
GLADIATOR - OST, HANS ZIMMER & LISA GERRARD


Download from iTunes

-

Buy from Amazon

18
RE-ENTRY
INSPIRATION, SHEKU KANNEH-MASON


Download from iTunes

-

Buy from Amazon

19
16
THE BLUE NOTEBOOKS, MAX RICHTER


Download from iTunes

-

Buy from Amazon

20
NEW
MAXWELL DAVIES/SUITE FROM THE BOYFRIEND, AQUARIUS/CLEOBURY


Download from iTunes

-

Buy from Amazon

21
21
UNA MATTINA, LUDOVICO EINAUDI


Download from iTunes

-

Buy from Amazon

22
NEW
STANFORD/A SONG OF AGINCOURT, ULSTER ORCHESTRA/SHELLEY


Download from iTunes

-

Buy from Amazon

23
20
THE LORD OF THE RINGS - OST, HOWARD SHORE
24
15
THE 50 GREATEST PIECES OF CLASSICAL, LPO/PARRY


Download from iTunes

-

Buy from Amazon

25
23
DIVENIRE, LUDOVICO EINAUDI


Download from iTunes

-

Buy from Amazon

26
28
ELEMENTS, LUDOVICO EINAUDI


Download from iTunes

-

Buy from Amazon

27
19
THE WORLD OF - A SYMPHONIC CELEBRATION, HANS ZIMMER


Download from iTunes

-

Buy from Amazon

28
NEW
MOZART/THE JUPITER PROJECT, NORRIS/BIRCHER/BALDING


Download from iTunes

-

Buy from Amazon

29
26
EVOLUTION, ALEXIS FFRENCH


Download from iTunes

-

Buy from Amazon

30
27
I GIORNI, LUDOVICO EINAUDI


Download from iTunes

-

Buy from Amazon