Classic FM Chart: Pavarotti albums lead the way following Ron Howard's new biopic
21 July 2019, 18:55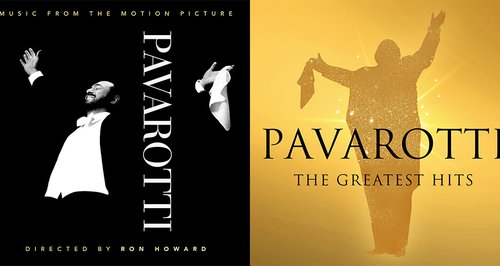 Following the release of Ron Howard's new biopic, Pavarotti albums occupy the top two spots in this week's Classic FM Chart.
Just behind Pavarotti – OST and the late tenor's Greatest Hits album, it's Winton Marsalis' Violin Concerto at No. 3, played by violinist Nicola Benedetti.
The other new entry in this week's chart is Anne Dudley's soundtrack to Poldark, following the release of Series 5 last Sunday.
This
Week
Last
Week
Title & Artist
1
5
PAVAROTTI - OST, LUCIANO PAVAROTTI


Download from iTunes

-

Buy from Amazon

2
9
THE GREATEST HITS, LUCIANO PAVAROTTI


Download from iTunes

-

Buy from Amazon

3
NEW
MARSALIS/VIOLIN CONCERTO/FIDDLE DANCE, BENEDETTI/PHIL OR/MACELARU


Download from iTunes

-

Buy from Amazon

4
2
ISLANDS - ESSENTIAL EINAUDI, LUDOVICO EINAUDI


Download from iTunes

-

Buy from Amazon

5
1
ROMANCE - THE PIANO MUSIC OF CLARA, ISATA KANNEH-MASON


Download from iTunes

-

Buy from Amazon

6
4
SI, ANDREA BOCELLI


Download from iTunes

-

Buy from Amazon

7
6
THE LITTLE MERMAID - OST, ALAN MENKEN


Download from iTunes

-

Buy from Amazon

8
RE-ENTRY
THE 50 GREATEST TRACKS, LUCIANO PAVAROTTI


Download from iTunes

-

Buy from Amazon

9
NEW
POLDARK - THE ULTIMATE COLLECTION - OST, ANNE DUDLEY


Download from iTunes

-

Buy from Amazon

10
12
SLEEP, MAX RICHTER


Download from iTunes

-

Buy from Amazon

11
7
100 HITS - THE BEST CLASSICAL ALBUM, VARIOUS ARTISTS


Buy from Amazon

12
8
SEVEN DAYS WALKING - DAY ONE, LUDOVICO EINAUDI


Download from iTunes

-

Buy from Amazon

13
10
AVENGERS - ENDGAME - OST, ALAN SILVESTRI


Download from iTunes

-

Buy from Amazon

14
15
THE 50 GREATEST PIECES OF CLASSICAL, LPO/PARRY


Download from iTunes

-

Buy from Amazon

15
14
THE LORD OF THE RINGS - TRILOGY - OST, HOWARD SHORE
16
11
IN A TIME LAPSE, LUDOVICO EINAUDI


Download from iTunes

-

Buy from Amazon

17
13
GLADIATOR - OST, HANS ZIMMER & LISA GERRARD


Download from iTunes

-

Buy from Amazon

18
16
TOY STORY 4 - OST, RANDY NEWMAN


Download from iTunes

-

Buy from Amazon

19
RE-ENTRY
RISE, JESS GILLAM


Download from iTunes

-

Buy from Amazon

20
18
THE BLUE NOTEBOOKS, MAX RICHTER


Download from iTunes

-

Buy from Amazon

21
17
GAME OF THRONES - SEASON 8 - OST, RAMIN DJAWADI


Download from iTunes

-

Buy from Amazon

22
22
EVOLUTION, ALEXIS FFRENCH


Download from iTunes

-

Buy from Amazon

23
19
UNA MATTINA, LUDOVICO EINAUDI


Download from iTunes

-

Buy from Amazon

24
3
SPIDER-MAN - FAR FROM HOME - OST, MICHAEL GIACCHINO


Download from iTunes

-

Buy from Amazon

25
20
THE LORD OF THE RINGS - OST, HOWARD SHORE
26
21
DIVENIRE, LUDOVICO EINAUDI


Download from iTunes

-

Buy from Amazon

27
28
I GIORNI, LUDOVICO EINAUDI


Download from iTunes

-

Buy from Amazon

28
23
SEVEN DAYS WALKING - DAY FOUR, LUDOVICO EINAUDI


Download from iTunes

-

Buy from Amazon

29
RE-ENTRY
JOHANN SEBASTIAN BACH, VIKINGUR OLAFSSON


Download from iTunes

-

Buy from Amazon

30
29
ELEMENTS, LUDOVICO EINAUDI


Download from iTunes

-

Buy from Amazon