Classic FM Chart: John Brunning's Drive Discovery, Northern Lights, enters the chart at no 2.
21 May 2017, 18:55 | Updated: 26 May 2017, 14:14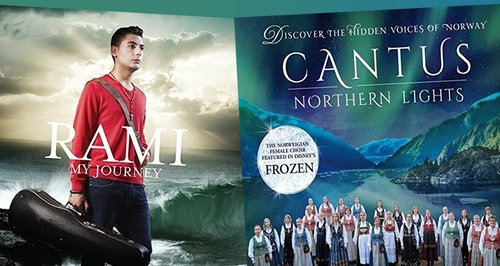 There isn't much movement in this week's Classic FM Chart. Peaceful Piano, which entered the chart last week at no. 1, remains in the top spot. John Brunning's Drive Discovery Album from last week, Northern Lights by Cantus, enters the chart at no. 2, pushing Classic FM: Hall of Fame - The Silver Edition to no. 4 and Rami's My Journey down to no. 5. The rest of the top 10 includes many of the same albums as last week, with very little movement.
In the rest of the chart, this week's highest climber is Hans Zimmer's soundtrack for Gladiator, up 9 places from no. 24 to no. 15. Gladiator - Special Anniversary Edition is also this week's only re-entry, only just squeezing back into the top 30 at no. 29. Meanwhile, Sleep by Max Richter is this week's biggest faller, dropping 13 places from no. 8 to no. 21.
As well as the new entry from Cantus, there are a further four new entries this week, including Solipsism and Prehension by Joep Beving, Yo Yo Ma's new Bach album and the new release from the Villiers Quartet, all in the lower third of the chart.
This
Week
Last
Week
Title & Artist
1
1
PEACEFUL PIANO, VARIOUS ARTISTS


Buy from Amazon

-

Download from iTunes

2
NEW
NORTHERN LIGHTS, CANTUS


Buy from Amazon

-

Download from iTunes

3
3
ISLANDS - ESSENTIAL EINAUDI, LUDOVICO EINAUDI


Buy from Amazon

-

Download from iTunes

4
2
CLASSIC FM HALL OF FAME - THE SILVER, VARIOUS ARTISTS


Buy from Amazon

-

Download from iTunes

5
4
MY JOURNEY, RAMI BASISAH/PRAGUE PO


Buy from Amazon

-

Download from iTunes

6
5
GUARDIANS OF THE GALAXY - VOL 2, TYLER BATES


Buy from Amazon

-

Download from iTunes

7
7
ELEMENTS, LUDOVICO EINAUDI


Buy from Amazon

-

Download from iTunes

8
11
THE 50 GREATEST PIECES OF CLASSICAL MUSIC, LPO/PARRY


Buy from Amazon

-

Download from iTunes

9
9
THE LORD OF THE RINGS - TRILOGY - OST, HOWARD SHORE


Buy from Amazon

-

Download from iTunes

10
6
ROGUE ONE - A STAR WARS STORY - OST, MICHAEL GIACCHINO


Buy from Amazon

-

Download from iTunes

11
14
MONTEVERDI/THE OTHER VESPERS, I FAGIOLINI/24/HOLLINGWORTH


Buy from Amazon

-

Download from iTunes

12
13
IN A TIME LAPSE, LUDOVICO EINAUDI


Buy from Amazon

-

Download from iTunes

13
18
THE LITTLE MERMAID - OST, ALAN MENKEN


Buy from Amazon

-

Download from iTunes

14
10
THE BLUE NOTEBOOKS, MAX RICHTER


Buy from Amazon

-

Download from iTunes

15
24
GLADIATOR - OST, HANS ZIMMER & LISA GERRARD


Buy from Amazon

-

Download from iTunes

16
12
CLASSIC FM PTS JUBILATE - 500 YEARS OF, JONES/ST PAUL'S CH/CARWOOD


Buy from Amazon

-

Download from iTunes

17
15
SCORE, 2CELLOS


Buy from Amazon

-

Download from iTunes

18
19
THE LORD OF THE RINGS - OST, HOWARD SHORE


Buy from Amazon

-

Download from iTunes

19
21
GAME OF THRONES - SEASON 6 - OST, RAMIN DJAWADI


Buy from Amazon

-

Download from iTunes

20
22
DIVENIRE, LUDOVICO EINAUDI


Buy from Amazon

-

Download from iTunes

21
8
SLEEP, MAX RICHTER


Buy from Amazon

-

Download from iTunes

22
16
STAR WARS - THE FORCE AWAKENS - OST, JOHN WILLIAMS


Buy from Amazon

-

Download from iTunes

23
17
THREE WORLDS - MUSIC FROM WOOLF WORKS, MAX RICHTER


Buy from Amazon

-

Download from iTunes

24
NEW
SOLIPSISM, JOEP BEVING


Buy from Amazon

-

Download from iTunes

25
NEW
PLAYS BACH, YO-YO MA


Buy from Amazon

-

Download from iTunes

26
26
UNA MATTINA, LUDOVICO EINAUDI


Buy from Amazon

-

Download from iTunes

27
NEW
DELIUS/ELGAR/STRING QUARTETS, VILLIERS QUARTET


Buy from Amazon

-

Download from iTunes

28
NEW
PREHENSION, JOEP BEVING


Buy from Amazon

-

Download from iTunes

29
RE
GLADIATOR - OST - SPECIAL ANNIVERSARY, HANS ZIMMER & LISA GERRARD


Buy from Amazon

-

Download from iTunes

30
27
I GIORNI, LUDOVICO EINAUDI


Buy from Amazon

-

Download from iTunes