Classic FM Chart: New entry Alexis Ffrench shoots to No.1
9 September 2018, 18:55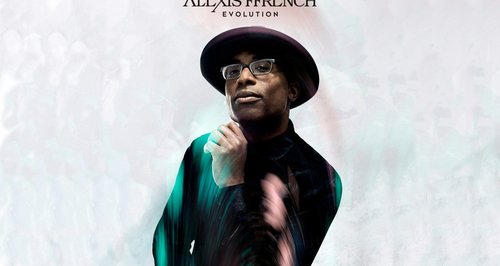 New Alexis Ffrench album 'Evolution' steals the top spot, but the Avengers Infinity War soundtrack is also climbing fast.
Three new entries claim places in the top 10 this week - Alexis Ffrench's new album Evolution, Requiem for my Mother by Rebecca Dale at no.6, and a recording of Janáček's Glagolitic Mass by the Czech Philharmonic and Jiří Bělohlávek at no.8.
The Avengers Infinity War soundtrack has made a significant rise in this week's chart, jumping from no.19 last week to no.5. The top three albums from last week remain strong and in the top 4 spots, while Yo-Yo Ma's album has slipped from last week's no.4 to no.16 this week.
Karl Jenkins has a successful week with a re-entry of The Armed Man - A Mass for Peace at no.21 and his Best Of album remains in the top 30. However, it is Einaudi that reigns over the chart with five entries in the top 30.
This
Week
Last
Week
Title & Artist
1
NEW
EVOLUTION, ALEXIS FFRENCH


Download from iTunes

-

Buy from Amazon

2
1
THE REAL CLASSICAL, VARIOUS ARTISTS


Buy from Amazon

3
2
ISLANDS - ESSENTIAL EINAUDI, LUDOVICO EINAUDI


Download from iTunes

-

Buy from Amazon

4
3
INSPIRATION, SHEKU KANNEH-MASON


Download from iTunes

-

Buy from Amazon

5
19
AVENGERS - INFINITY WAR - OST, ALAN SILVESTRI


Download from iTunes

-

Buy from Amazon

6
NEW
DALE/REQUIEM FOR MY MOTHER, KANTOS CC/RLPO/CANTUS ENS


Download from iTunes

-

Buy from Amazon

7
5
THE LITTLE MERMAID - OST, ALAN MENKEN


Download from iTunes

-

Buy from Amazon

8
NEW
JANACEK/GLAGOLITIC MASS/SINFONIETTA, CZECH PHIL/BELOHLAVEK


Download from iTunes

-

Buy from Amazon

9
7
THE LORD OF THE RINGS - TRILOGY - OST, HOWARD SHORE


Download from iTunes

-

Buy from Amazon

10
6
THE 50 GREATEST PIECES OF CLASSICAL, LPO/PARRY


Download from iTunes

-

Buy from Amazon

11
8
DIVENIRE, LUDOVICO EINAUDI


Download from iTunes

-

Buy from Amazon

12
13
ELEMENTS, LUDOVICO EINAUDI


Download from iTunes

-

Buy from Amazon

13
15
SLEEP, MAX RICHTER


Download from iTunes

-

Buy from Amazon

14
16
IN A TIME LAPSE, LUDOVICO EINAUDI


Download from iTunes

-

Buy from Amazon

15
14
THE LORD OF THE RINGS - OST, HOWARD SHORE
16
4
BACH/SIX EVOLUTIONS - CELLO SUITES, YO-YO MA


Download from iTunes

-

Buy from Amazon

17
12
GLADIATOR - OST, HANS ZIMMER & LISA GERRARD


Download from iTunes

-

Buy from Amazon

18
9
THE BLUE NOTEBOOKS, MAX RICHTER


Download from iTunes

-

Buy from Amazon

19
20
SCORE, 2CELLOS


Download from iTunes

-

Buy from Amazon

20
11
JOHN WILLIAMS - A LIFE IN MUSIC, LSO/GREENAWAY


Download from iTunes

-

Buy from Amazon

21
Re-entry
THE ARMED MAN - A MASS FOR PEACE, KARL JENKINS


Download from iTunes

-

Buy from Amazon

22
NEW
TENDER SYMMETRY, MICHAEL PRICE


Download from iTunes

-

Buy from Amazon

23
NEW
DESTINY 2 - FORSAKEN - OST, SALVATORI/LEWIN/MOAV/SCHLOSSER


Download from iTunes

-

Buy from Amazon

24
NEW
DUSSEK/PIANO CONCERTOS, HOWARD SHELLEY/ULSTER ORCH


Download from iTunes

-

Buy from Amazon

25
24
BERNSTEIN/THE 3 SYMPHONIES, SANTA CECILIA OR/PAPPANO


Download from iTunes

-

Buy from Amazon

26
NEW
PARK/CHORAL WORKS, TRINITY COLLEGE CAMB CH/LAYTON


Download from iTunes

-

Buy from Amazon

27
23
UNA MATTINA, LUDOVICO EINAUDI


Download from iTunes

-

Buy from Amazon

28
30
I GIORNI, LUDOVICO EINAUDI


Download from iTunes

-

Buy from Amazon

29
28
THE VERY BEST OF, KARL JENKINS


Download from iTunes

-

Buy from Amazon

30
10
THE CLASSICS YOU KNOW, ROYAL PHILHARMONIC ORCHESTRA


Download from iTunes

-

Buy from Amazon