Classic FM Chart: Jubilate spends its second week at no. 1
2 April 2017, 18:55 | Updated: 4 April 2017, 09:32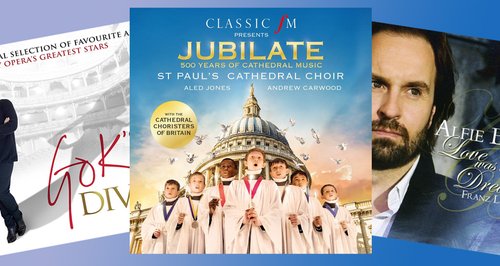 2nd April: 'Jubilate: 500 Years Of Cathedral Music' by St Pauls Cathedral Choir and Guests is at no. 1 for the second week in a row after entering straight into the top spot last week
At the top end of the Classic FM Chart this week, Jubilate: 500 Years of Cathedral Music and Alfie Boe's Love Was A Dream both stay at no. 1 and no. 2 respectively. The rest of the top 5 - Gok's Divas, Einaudi's Islands and Score by 2Cellos - remain the same, but reshuffle.
There are two surprises regarding the rest of the top 10, involving two albums of film music almost completely swapping places at either end of the chart. The biggest faller this week is John Williams and Steven Spielberg: The Ultimate Collection, which was a new entry at no. 6 last week, but drops 22 places down to no. 28 this week. Taking its place is this week's biggest climber - the soundtrack for Rogue One - which jumped 19 places from no. 25 to no. 6.
In the rest of the Classic FM Chart, there are several re-entries and one new entry. Re-entries include two more film composer compilations - which is perhaps the cause of the John Williams and Steven Spielberg: The Ultimate Collection album dropping so far down the chart - Morricone at 60 and Zimmer: The Classics - as well as the soundtrack for Logan, 40 Most Beautiful Classical Masterpieces, Island Songs by Olafur Arnalds, 40 Most Beautiful Arias, Bach: Six Unaccompanied Cello Suits performed by Yo-Yo Ma and Stabat Mater recorded by The Sixteen. The only new entry this week is the soundtrack to the new Power Rangers film composed by Brian Tyler.
There are many classical compilation albums in the Classic FM Chart this week. As well as some of the re-entries mentioned above these include The 50 Greatest Pieces of Classical Music and The Classical Album. This is perhaps attributed to the closing of the Classic FM Hall of Fame last weekend which often inspires many listeners to discover a depth of new music, and these albums act as a good starting point to any collection. The Classic FM Hall of Fame countdown begins on Friday 14th April at 9am and carries on right through Easter weekend to Monday 17th April, when the most voted for pieces will be revealed. You can find more information on the Classic FM Hall of Fame here.
This
Week
Last
Week
Title & Artist
1
1
CLASSIC FM PTS JUBILATE - 500 YEARS OF, JONES/ST PAUL'S CH/CARWOOD


Buy from Amazon

-

Download from iTunes

2
2
LOVE WAS A DREAM, ALFIE BOE


Buy from Amazon

-

Download from iTunes

3
4
GOK'S DIVAS, VARIOUS ARTISTS


Buy from Amazon

-

Download from iTunes

4
5
ISLANDS - ESSENTIAL EINAUDI, LUDOVICO EINAUDI


Buy from Amazon

-

Download from iTunes

5
3
SCORE, 2CELLOS


Buy from Amazon

-

Download from iTunes

6
25
ROGUE ONE - A STAR WARS STORY - OST, MICHAEL GIACCHINO


Buy from Amazon

-

Download from iTunes

7
11
THE 50 GREATEST PIECES OF CLASSICAL MUSIC, LPO/PARRY


Buy from Amazon

-

Download from iTunes

8
9
THE CLASSICAL ALBUM, VARIOUS ARTISTS


Buy from Amazon

-

Download from iTunes

9
8
THREE WORLDS - MUSIC FROM WOOLF WORKS, MAX RICHTER


Buy from Amazon

-

Download from iTunes

10
7
ELEMENTS, LUDOVICO EINAUDI


Buy from Amazon

-

Download from iTunes

11
RE
LOGAN - OST, MARCO BELTRAMI


Buy from Amazon

-

Download from iTunes

12
RE
40 MOST BEAUTIFUL CLASSICAL MASTERPIECES, VARIOUS ARTISTS


Buy from Amazon

-

Download from iTunes

13
RE
MORRICONE 60, ENNIO MORRICONE


Buy from Amazon

-

Download from iTunes

14
NEW
POWER RANGERS - OST, BRIAN TYLER


Buy from Amazon

-

Download from iTunes

15
22
SLEEP, MAX RICHTER


Buy from Amazon

-

Download from iTunes

16
13
CINEMA, ANDREA BOCELLI


Buy from Amazon

-

Download from iTunes

17
21
GLADIATOR - OST, HANS ZIMMER & LISA GERRARD


Buy from Amazon

-

Download from iTunes

18
15
THE LORD OF THE RINGS - TRILOGY - OST, HOWARD SHORE


Buy from Amazon

-

Download from iTunes

19
RE
ISLAND SONGS, OLAFUR ARNALDS


Buy from Amazon

-

Download from iTunes

20
12
THE BLUE NOTEBOOKS, MAX RICHTER


Buy from Amazon

-

Download from iTunes

21
17
IN A TIME LAPSE, LUDOVICO EINAUDI


Buy from Amazon

-

Download from iTunes

22
RE
ZIMMER/THE CLASSICS, VARIOUS ARTISTS


Buy from Amazon

-

Download from iTunes

23
RE
40 MOST BEAUTIFUL ARIAS, VARIOUS ARTISTS


Buy from Amazon

-

Download from iTunes

24
16
THE LITTLE MERMAID - OST, ALAN MENKEN


Buy from Amazon

-

Download from iTunes

25
RE
BACH/THE 6 UNACCOMPANIED CELLO SUITES, YO-YO MA


Buy from Amazon

-

Download from iTunes

26
27
THE LORD OF THE RINGS - OST, HOWARD SHORE


Buy from Amazon

-

Download from iTunes

27
20
GAME OF THRONES - SEASON 6 - OST, RAMIN DJAWADI


Buy from Amazon

-

Download from iTunes

28
6
WILLIAMS/SPIELBERG/ULTIMATE COLLECTION, JOHN WILLIAMS


Buy from Amazon

-

Download from iTunes

29
23
DIVENIRE, LUDOVICO EINAUDI


Buy from Amazon

-

Download from iTunes

30
RE
MACMILLAN/STABAT MATER, SIXTEEN/BRITTEN SINFONIA


Buy from Amazon

-

Download from iTunes