Classic FM Chart: 'Classic FM Hall of Fame: The Silver Edition' enters the chart at no. 1
23 April 2017, 18:55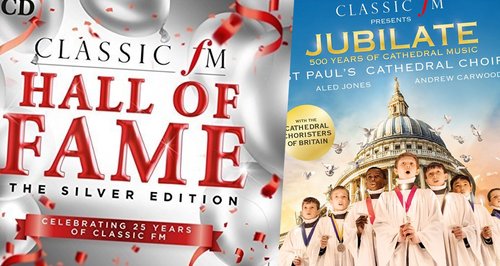 23rd April 2017: 'Classic FM Hall of Fame: The Silver Edition' goes straight to no. 1, knocking 'Jubilate: 500 Years of Cathedral Music' off the top spot after one month
It's been two weeks since the last Classic FM Chart due to The Classic FM Hall of Fame 2017 countdown last weekend, but this evening the Classic FM Chart is back with a bang!
Keeping with the Hall of Fame theme, Classic FM's new release Classic FM Hall of Fame: The Silver Edition, celebrating Classic FM's 25th birthday this year, goes straight to no. 1. Previous no. 1 for the last month, Jubilate: Celebrating 500 Years of Cathedral Music, drops two places to no 3, with Michael Giacchino's soundtrack for Rogue One steps up one place to no. 2. Other albums in the top 10 include two albums for Ludovico Einaudi - Islands and Elements - as well as soundtrack albums from Lord of the Rings and Morricone at 60.
This week's highest climber, John Williams' soundtrack for Star Wars: The Force Awakens, also features in the top 10, climbing 19 places from no. 26 to no. 7. Almost exactly swapping places with this week's highest climber is this week's biggest faller, Gok's Divas, falling 22 places from no. 5 to no. 27.
Elsewhere in the chart, there are five new entries and three new entries. There are new entries from Yo-Yo Ma at no. 11, the soundtrack for Broadchurch: The Final Chapter at no. 14 and the 30th Anniversary Collection at no. 18, as well as Min Kym's Gone at no. 28 and Daniel Hope's For Seasons at no. 30.
This
Week
Last
Chart
Title & Artist
1
NEW
CLASSIC FM HALL OF FAME - THE SILVER, VARIOUS ARTISTS


Buy from Amazon

-

Download from iTunes

2
3
ROGUE ONE - A STAR WARS STORY - OST, MICHAEL GIACCHINO


Buy from Amazon

-

Download from iTunes

3
1
CLASSIC FM PTS JUBILATE - 500 YEARS OF, JONES/ST PAUL'S CH/CARWOOD


Buy from Amazon

-

Download from iTunes

4
2
ISLANDS - ESSENTIAL EINAUDI, LUDOVICO EINAUDI


Buy from Amazon

-

Download from iTunes

5
4
MORRICONE 60, ENNIO MORRICONE


Buy from Amazon

-

Download from iTunes

6
11
ELEMENTS, LUDOVICO EINAUDI


Buy from Amazon

-

Download from iTunes

7
26
STAR WARS - THE FORCE AWAKENS - OST, JOHN WILLIAMS


Buy from Amazon

-

Download from iTunes

8
13
THE LORD OF THE RINGS - TRILOGY - OST, HOWARD SHORE


Buy from Amazon

-

Download from iTunes

9
6
SCORE, 2CELLOS


Buy from Amazon

-

Download from iTunes

10
10
THREE WORLDS - MUSIC FROM WOOLF WORKS, MAX RICHTER


Buy from Amazon

-

Download from iTunes

11
NEW
BACH/TRIOS, YO-YO MA/MEYER/THILE


Buy from Amazon

-

Download from iTunes

12
30
BACH/ST MATTHEW PASSION, GILCHRIST/LOGES/MONTEVERDI CH


Buy from Amazon

-

Download from iTunes

13
7
CLASSICAL - THE COLLECTION, VARIOUS ARTISTS


Buy from Amazon

-

Download from iTunes

14
NEW
BROADCHURCH - THE FINAL CHAPTER - OST, OLAFUR ARNALDS


Buy from Amazon

-

Download from iTunes

15
8
THE 50 GREATEST PIECES OF CLASSICAL MUSIC, LPO/PARRY


Buy from Amazon

-

Download from iTunes

16
15
THE LITTLE MERMAID - OST, ALAN MENKEN


Buy from Amazon

-

Download from iTunes

17
20
THE BLUE NOTEBOOKS, MAX RICHTER


Buy from Amazon

-

Download from iTunes

18
NEW
30TH ANNIVERSARY COLLECTION, VARIOUS ARTISTS


Buy from Amazon

-

Download from iTunes

19
17
IN A TIME LAPSE, LUDOVICO EINAUDI


Buy from Amazon

-

Download from iTunes

20
22
THE LORD OF THE RINGS - OST, HOWARD SHORE


Buy from Amazon

-

Download from iTunes

21
12
GLADIATOR - OST, HANS ZIMMER & LISA GERRARD


Buy from Amazon

-

Download from iTunes

22
18
GAME OF THRONES - SEASON 6 - OST, RAMIN DJAWADI


Buy from Amazon

-

Download from iTunes

23
25
DIVENIRE, LUDOVICO EINAUDI


Buy from Amazon

-

Download from iTunes

24
RE
BACH/ST MATTHEW PASSION, EBS/GARDINER


Buy from Amazon

-

Download from iTunes

25
RE
ISLAND SONGS, OLAFUR ARNALDS


Buy from Amazon

-

Download from iTunes

26
14
FANTASTIC BEASTS AND WHERE TO FIND THEM, JAMES NEWTON HOWARD


Buy from Amazon

-

Download from iTunes

27
5
GOK'S DIVAS, VARIOUS ARTISTS


Buy from Amazon

-

Download from iTunes

28
NEW
GONE, MIN KYM


Buy from Amazon

-

Download from iTunes

29
RE
CINEMA, ANDREA BOCELLI


Buy from Amazon

-

Download from iTunes

30
NEW
FOR SEASONS, DANIEL HOPE


Buy from Amazon

-

Download from iTunes