Classic FM Chart: Gok's Divas enters the chart at no. 1
19 March 2017, 18:55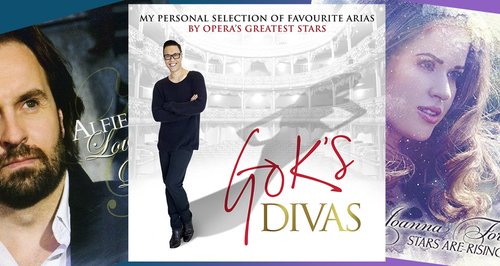 19th March: Gok's Divas enters the chart at no. 1, closely followed by another new entry at no. 2 from Joanna Forest
Gok's Divas, John Suchet's Album of the Week, is this week's new no. 1. Not far behind, is the latest release from Joanna Forest, Stars are Rising, at no. 2. Alfie Boe's Love was a Dream, last week's no. 1, steps down into no. 3, and with all the excitement at the top end of the chart, there isn't much movement in the rest of the top 10.
There is a total of 10 new additions to the Classic FM Chart, a fantastic amount for the second week in a row. There is a re-entry from saxophonist Amy Dickson at no. 13, who previously entered the chart last month at no. 5, plus new entries from pianist Grigory Sokolov, tenor Mario Lanza, plus a particular favourite - the new video game soundtrack for Horizon Zero Dawn - which sold 2.6 million copies of the game in it's first two weeks.
Elsewhere in the chart, there is very little movement this week, excluding the new entries. The biggest fallers are from tracks which have now left the top 30 such as last week's no 3, A New Heaven by Queen's College Oxford. The highest climber was Cinema, up five places.
This
Week
Last
Week
Title & Artist
1
NEW
GOK'S DIVAS, VARIOUS ARTISTS


Buy from Amazon

-

Download from iTunes

2
NEW
STARS ARE RISING, JOANNA FOREST


Buy from Amazon

-

Download from iTunes

3
1
LOVE WAS A DREAM, ALFIE BOE


Buy from Amazon

-

Download from iTunes

4
2
ISLANDS - ESSENTIAL EINAUDI, LUDOVICO EINAUDI


Buy from Amazon

-

Download from iTunes

5
5
THREE WORLDS - MUSIC FROM WOOLF WORKS, MAX RICHTER


Buy from Amazon

-

Download from iTunes

6
11
CINEMA, ANDREA BOCELLI


Buy from Amazon

-

Download from iTunes

7
10
ELEMENTS, LUDOVICO EINAUDI


Buy from Amazon

-

Download from iTunes

8
4
MACMILLAN/STABAT MATER, SIXTEEN/BRITTEN SINFONIA


Buy from Amazon

-

Download from iTunes

9
8
THE 50 GREATEST PIECES OF CLASSICAL MUSIC, LPO/PARRY


Buy from Amazon

-

Download from iTunes

10
9
THE CLASSICAL ALBUM, VARIOUS ARTISTS


Buy from Amazon

-

Download from iTunes

11
13
THE BLUE NOTEBOOKS, MAX RICHTER


Buy from Amazon

-

Download from iTunes

12
7
RECOMPOSED BY MAX RICHTER/VIVALDI - FOUR, HOPE/KONZERTHAUS CO/RIDDER


Buy from Amazon

-

Download from iTunes

13
RE
GLASS, AMY DICKSON


Buy from Amazon

-

Download from iTunes

14
17
SLEEP, MAX RICHTER


Buy from Amazon

-

Download from iTunes

15
NEW
MOZART/RACHMANINOV/CONCERTOS, GRIGORY SOKOLOV


Buy from Amazon

-

Download from iTunes

16
NEW
THE BEST OF EVERYTHING, MARIO LANZA


Buy from Amazon

-

Download from iTunes

17
15
THE LORD OF THE RINGS - TRILOGY - OST, HOWARD SHORE


Buy from Amazon

-

Download from iTunes

18
12
LION - OST, DUSTIN O'HALLORAN & HAUSCHKA


Buy from Amazon

-

Download from iTunes

19
18
GAME OF THRONES - SEASON 6 - OST, RAMIN DJAWADI


Buy from Amazon

-

Download from iTunes

20
NEW
HEIMAT, BENJAMIN APPL/JAMES BAILLIEU


Buy from Amazon

-

Download from iTunes

21
NEW
BACH/ST MATTHEW PASSION, GILCHRIST/LOGES/MONTEVERDI CH


Buy from Amazon

-

Download from iTunes

22
20
IN A TIME LAPSE, LUDOVICO EINAUDI


Buy from Amazon

-

Download from iTunes

23
14
LOGAN - OST, MARCO BELTRAMI


Buy from Amazon

-

Download from iTunes

24
NEW
HORIZON ZERO DAWN, ORIGINAL SOUNDTRACK


Buy from Amazon

-

Download from iTunes

25
24
RIMUR, TRIO MEDIAEVAL/ARVE HENRIKSEN


Buy from Amazon

-

Download from iTunes

26
28
THE LITTLE MERMAID - OST, ALAN MENKEN


Buy from Amazon

-

Download from iTunes

27
NEW
ADES/ASYLA TEVOT POLARIS, LSO/ADES


Buy from Amazon

-

Download from iTunes

28
29
GLADIATOR - OST, HANS ZIMMER & LISA GERRARD


Buy from Amazon

-

Download from iTunes

29
NEW
BACH/ORGAN WORKS - VOL 2, MASAAKI SUZUKI


Buy from Amazon

-

Download from iTunes

30
21
ROGUE ONE - A STAR WARS STORY - OST, MICHAEL GIACCHINO


Buy from Amazon

-

Download from iTunes