Classic FM Chart: Einaudi is climbing to the top
2 September 2018, 18:55 | Updated: 19 October 2018, 15:29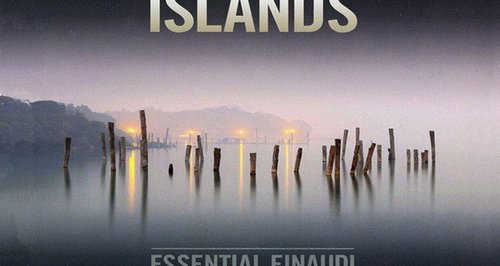 Last week's top two albums, Sheku Kanneh-Mason's 'Inspiration' and Yo-Yo Ma's Bach 'Evolutions' drop down, as Einaudi overtakes both.
Ludovico Einaudi remains this week's strongest composer with six albums in the top 30. Islands - Essential Einaudi is up two positions and is now at no.2, moving last week's top two albums down to no.3 and no.4. Various artists from Rachmaninoff to Elgar are claiming the no.1 spot as The Real Classical compilation album has jumped up three positions from last week.
A new album, Carly Paoli's Live at Cadogan Hall, makes a strong chart entry at no.17. Multiple film scores and music albums are present in the chart this week, including Alan Menken's The Little Mermaid soundtrack which is now in the top 5. British composer Karl Jenkins has also re-entered the chart with The Very Best Of album at no.28.


This
Week
Last
Week
Title & Artist
1
4
THE REAL CLASSICAL, VARIOUS ARTISTS


Buy from Amazon

2
3
ISLANDS - ESSENTIAL EINAUDI, LUDOVICO EINAUDI


Download from iTunes

-

Buy from Amazon

3
1
INSPIRATION, SHEKU KANNEH-MASON


Download from iTunes

-

Buy from Amazon

4
2
BACH/SIX EVOLUTIONS - CELLO SUITES, YO-YO MA


Download from iTunes

-

Buy from Amazon

5
9
THE LITTLE MERMAID - OST, ALAN MENKEN


Download from iTunes

-

Buy from Amazon

6
10
THE 50 GREATEST PIECES OF CLASSICAL, LPO/PARRY


Download from iTunes

-

Buy from Amazon

7
8
THE LORD OF THE RINGS - TRILOGY - OST, HOWARD SHORE


Download from iTunes

-

Buy from Amazon

8
11
DIVENIRE, LUDOVICO EINAUDI


Download from iTunes

-

Buy from Amazon

9
6
THE BLUE NOTEBOOKS, MAX RICHTER


Download from iTunes

-

Buy from Amazon

10
5
THE CLASSICS YOU KNOW, ROYAL PHILHARMONIC ORCHESTRA


Download from iTunes

-

Buy from Amazon

11
20
JOHN WILLIAMS - A LIFE IN MUSIC, LSO/GREENAWAY


Download from iTunes

-

Buy from Amazon

12
13
GLADIATOR - OST, HANS ZIMMER & LISA GERRARD


Download from iTunes

-

Buy from Amazon

13
16
ELEMENTS, LUDOVICO EINAUDI


Download from iTunes

-

Buy from Amazon

14
14
THE LORD OF THE RINGS - OST, HOWARD SHORE
15
12
SLEEP, MAX RICHTER


Download from iTunes

-

Buy from Amazon

16
18
IN A TIME LAPSE, LUDOVICO EINAUDI


Download from iTunes

-

Buy from Amazon

17
NEW
LIVE AT CADOGAN HALL, CARLY PAOLI


Download from iTunes

-

Buy from Amazon

18
RE
CINEMA, ANDREA BOCELLI


Download from iTunes

-

Buy from Amazon

19
21
AVENGERS - INFINITY WAR - OST, ALAN SILVESTRI


Download from iTunes

-

Buy from Amazon

20
17
SCORE, 2CELLOS


Download from iTunes

-

Buy from Amazon

21
26
CLASSICAL CHILLOUT, VARIOUS ARTISTS


Download from iTunes

-

Buy from Amazon

22
28
GAME OF THRONES - SEASON 6 - OST, RAMIN DJAWADI


Download from iTunes

-

Buy from Amazon

23
25
UNA MATTINA, LUDOVICO EINAUDI


Download from iTunes

-

Buy from Amazon

24
22
BERNSTEIN/THE 3 SYMPHONIES, SANTA CECILIA OR/PAPPANO


Download from iTunes

-

Buy from Amazon

25
29
GAME OF THRONES - SEASON 7 - OST, RAMIN DJAWADI


Download from iTunes

-

Buy from Amazon

26
NEW
BERNSTEIN/SYMPHONY NO 2, ZIMERMAN/BP/RATTLE


Download from iTunes

-

Buy from Amazon

27
NEW
BRAHMS/THE SYMPHONIES/CONCERTOS, WILHELM FURTWANGLER


Buy from Amazon

28
RE
THE VERY BEST OF, KARL JENKINS


Download from iTunes

-

Buy from Amazon

29
19
AMORE, ANDRE RIEU


Download from iTunes

-

Buy from Amazon

30
27
I GIORNI, LUDOVICO EINAUDI


Download from iTunes

-

Buy from Amazon