Classic FM Chart: Einaudi takes over with eight albums
28 April 2019, 18:55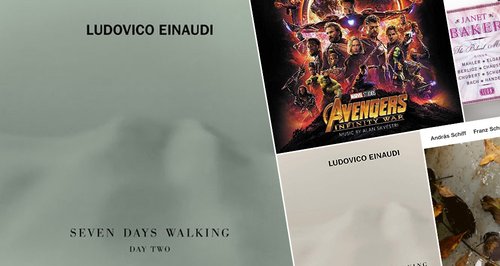 The second installation in Einaudi's Seven Days Walking series enters the chart at No. 1, alongside two new entries and two re-entries.
Ludovico Einaudi is no stranger to the Classic FM Chart, and this week, he has claimed an astonishing eight places in the chart thanks to the arrival of his new album, Seven Days Walking – Day Two.
His new album is the second in a series of seven, released over seven consecutive months. Seven Days Walking – Day One sits at No. 1, and Einaudi's ever-popular album Islands stays high at No. 5 in the chart.
Two other new entries enter the chart this week: Franz Schubert: Sonatas & Impromptus by András Schiff, and Icon, a box set of recordings by Dame Janet Baker.
Vikingur Olafsson's piano album Johann Sebastian Bach has jumped back into the chart at No. 6, and Alan Silvestri's soundtrack to Avengers - Infinity War re-enters at No. 24, as the sequel Endgame arrives in cinemas.
This
Week
Last
Week
Title & Artist
1
NEW
SEVEN DAYS WALKING - DAY TWO, LUDOVICO EINAUDI


Download from iTunes

-

Buy from Amazon

2
1
SI, ANDREA BOCELLI


Download from iTunes

-

Buy from Amazon

3
3
SEVEN DAYS WALKING - DAY ONE, LUDOVICO EINAUDI


Download from iTunes

-

Buy from Amazon

4
5
ISLANDS - ESSENTIAL EINAUDI, LUDOVICO EINAUDI


Download from iTunes

-

Buy from Amazon

5
2
PIANO BOOK, LANG LANG


Download from iTunes

-

Buy from Amazon

6
RE-ENTRY
JOHANN SEBASTIAN BACH, VIKINGUR OLAFSSON


Download from iTunes

-

Buy from Amazon

7
6
ROMANTIC MOMENTS II, ANDRE RIEU & JOHANN STRAUSS OR


Download from iTunes

-

Buy from Amazon

8
NEW
SCHUBERT/SONATAS & IMPROMPTUS, ANDRAS SCHIFF


Download from iTunes

-

Buy from Amazon

9
4
GORECKI/SYMPHONY NO 3, GIBBONS/POLISH NRSO/PENDERECKI


Download from iTunes

-

Buy from Amazon

10
8
THE LITTLE MERMAID - OST, ALAN MENKEN


Download from iTunes

-

Buy from Amazon

11
13
GAME OF THRONES - SEASON 6 - OST, RAMIN DJAWADI


Download from iTunes

-

Buy from Amazon

12
10
THE LORD OF THE RINGS - TRILOGY - OST, HOWARD SHORE
13
NEW
ICON, JANET BAKER


Download from iTunes

-

Buy from Amazon

14
24
GAME OF THRONES - SEASON 7 - OST, RAMIN DJAWADI


Download from iTunes

-

Buy from Amazon

15
12
THE BLUE NOTEBOOKS, MAX RICHTER


Download from iTunes

-

Buy from Amazon

16
16
THE 50 GREATEST PIECES OF CLASSICAL, LPO/PARRY


Download from iTunes

-

Buy from Amazon

17
11
SLEEP, MAX RICHTER


Download from iTunes

-

Buy from Amazon

18
15
IN A TIME LAPSE, LUDOVICO EINAUDI


Download from iTunes

-

Buy from Amazon

19
17
ELEMENTS, LUDOVICO EINAUDI


Download from iTunes

-

Buy from Amazon

20
20
THE LORD OF THE RINGS - OST, HOWARD SHORE
21
29
EVOLUTION, ALEXIS FFRENCH


Download from iTunes

-

Buy from Amazon

22
19
GLADIATOR - OST, HANS ZIMMER & LISA GERRARD


Download from iTunes

-

Buy from Amazon

23
27
UNA MATTINA, LUDOVICO EINAUDI


Download from iTunes

-

Buy from Amazon

24
RE-ENTRY
AVENGERS - INFINITY WAR - OST, ALAN SILVESTRI


Download from iTunes

-

Buy from Amazon

25
26
NOCTURNE, VANGELIS


Download from iTunes

-

Buy from Amazon

26
9
THE WORLD OF - A SYMPHONIC CELEBRATION, HANS ZIMMER


Download from iTunes

-

Buy from Amazon

27
21
DIVENIRE, LUDOVICO EINAUDI


Download from iTunes

-

Buy from Amazon

28
28
THE ULTIMATE CLASSICAL COLLECTION, VARIOUS ARTISTS


Download from iTunes

-

Buy from Amazon

29
30
I GIORNI, LUDOVICO EINAUDI


Download from iTunes

-

Buy from Amazon

30
22
GUIDING LIGHT, KATHERINE JENKINS


Download from iTunes

-

Buy from Amazon