Classic FM Chart: Einaudi knocks Lord of the Rings off the top spot
12 August 2018, 18:55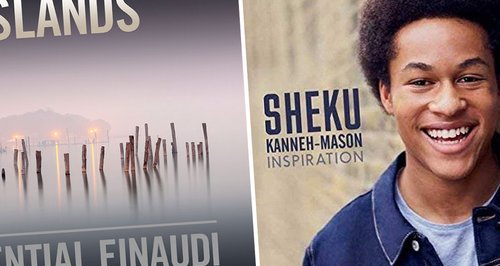 After just one week in pole position, Howard Shore's soundtrack for The Two Towers is unceremoniously displaced by Ludovico Einaudi.
No stranger to the top of the charts, Einaudi's massive-selling Islands compilation made short work of Howard Shore's reign at no. 1 (and sending it back down to no. 22).
Elsewhere in the top 10, there are new entries at nos. 4 & 5. Firstly, Classic FM's new compilation The Classics You Know serves up some big hits from the classical canon, but also tells you where you know them from (for example, Barber's Adagio for Strings becomes 'that one from Platoon').
At no. 5, a new entry from 15-year-old Elan Catrin Parry, the young singer who charmed the nation on ITV's This Time Next Year with her remarkable voice, who has now signed to Decca for her debut release.
No more new entries in the chart this week, but there is a welcome return for Max Richter's increasingly legendary reworking of Vivaldi's Four Seasons, sneaking back in at no. 30.
This
Week
Last
Week
Title & Artist
1
2
ISLANDS - ESSENTIAL EINAUDI, LUDOVICO EINAUDI


Download from iTunes

-

Buy from Amazon

2
3
INSPIRATION, SHEKU KANNEH-MASON


Download from iTunes

-

Buy from Amazon

3
NEW
THE CLASSICS YOU KNOW, ROYAL PHILHARMONIC ORCHESTRA


Download from iTunes

-

Buy from Amazon

4
NEW
ANGEL, ELAN CATRIN PARRY


Download from iTunes

-

Buy from Amazon

5
6
THE LITTLE MERMAID - OST, ALAN MENKEN


Download from iTunes

-

Buy from Amazon

6
5
THE 50 GREATEST PIECES OF CLASSICAL, LPO/PARRY


Download from iTunes

-

Buy from Amazon

7
9
THE LORD OF THE RINGS - TRILOGY - OST, HOWARD SHORE


Download from iTunes

-

Buy from Amazon

8
4
AMORE, ANDRE RIEU


Download from iTunes

-

Buy from Amazon

9
8
DIVENIRE, LUDOVICO EINAUDI


Download from iTunes

-

Buy from Amazon

10
17
ELEMENTS, LUDOVICO EINAUDI


Download from iTunes

-

Buy from Amazon

11
21
VIVALDI X2 - DOUBLE CONCERTOS FOR OBOES, LA SERENISSIMA/ADRIAN CHANDLER


Buy from Amazon

12
18
SCORE, 2CELLOS


Download from iTunes

-

Buy from Amazon

13
7
GLADIATOR - OST, HANS ZIMMER & LISA GERRARD


Download from iTunes

-

Buy from Amazon

14
11
SLEEP, MAX RICHTER


Download from iTunes

-

Buy from Amazon

15
16
THE LORD OF THE RINGS - OST, HOWARD SHORE
16
13
THE BLUE NOTEBOOKS, MAX RICHTER


Download from iTunes

-

Buy from Amazon

17
12
RACHMANINOV/ETUDES-TABLEAUX, STEVEN OSBOURNE


Download from iTunes

-

Buy from Amazon

18
14
IN A TIME LAPSE, LUDOVICO EINAUDI


Download from iTunes

-

Buy from Amazon

19
10
JOHN WILLIAMS - A LIFE IN MUSIC, LSO/GREENAWAY


Download from iTunes

-

Buy from Amazon

20
27
AVENGERS - INFINITY WAR - OST, ALAN SILVESTRI


Download from iTunes

-

Buy from Amazon

21
19
INCREDIBLES 2 - OST, MICHAEL GIACCHINO


Download from iTunes

-

Buy from Amazon

22
1
LORD OF THE RINGS - THE TWO TOWERS - OST, HOWARD SHORE


Download from iTunes

-

Buy from Amazon

23
20
CLASSICAL CHILLOUT, VARIOUS ARTISTS


Download from iTunes

-

Buy from Amazon

24
15
POLDARK - OST, ANNE DUDLEY


Download from iTunes

-

Buy from Amazon

25
22
I GIORNI, LUDOVICO EINAUDI


Download from iTunes

-

Buy from Amazon

26
24
GAME OF THRONES - SEASON 6 - OST, RAMIN DJAWADI


Download from iTunes

-

Buy from Amazon

27
23
UNA MATTINA, LUDOVICO EINAUDI


Download from iTunes

-

Buy from Amazon

28
RE
PRIDE & PREJUDICE - OST, MARIANELLI/ECO/THIBAUDET


Download from iTunes

-

Buy from Amazon

29
26
GAME OF THRONES - SEASON 7 - OST, RAMIN DJAWADI


Download from iTunes

-

Buy from Amazon

30
RE
RECOMPOSED BY MAX RICHTER/VIVALDI - FOUR, HOPE/KONZERTHAUS CO/RIDDER


Download from iTunes

-

Buy from Amazon