Classic FM Chart: Einaudi stays at no. 1 alongside new entry from Beatrice Rana at no 2.
5 March 2017, 18:55 | Updated: 14 March 2017, 08:57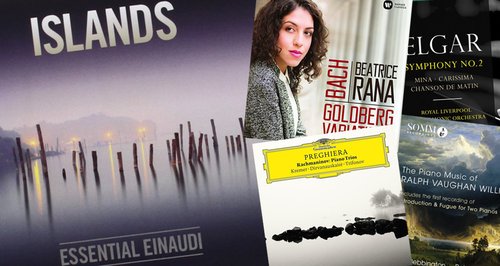 Sunday 5th March: Ludovico Einaudi's 'Islands' stays at no. 1, and after countless weeks in the Top 30 we say goodbye to 'One Voice'
Ludovico Einaudi's Islands stays at no. 1 for the second week in a row, meanwhile Max Richter's former no. 1 album Three Worlds: Music from Woolf Works drops to no. 3 to make way for a new album entering at no. 2 - pianist Beatrice Rana's Bach: Goldberg Variations.
Hans Zimmer's The Classics is this week's no. 4 and also the highest climber, jumping 16 places. Meanwhile, the rest of the top 10 features the same albums as last week's chart.
Elsewhere in the chart, the biggest faller is the soundtrack for Star Wars: The Force Awakens composed by the mighty John Williams, which drops 10 places from no. 14 to no. 24.
Other new entries include Preghiera: Rachmaninov Piano Trios at no. 14, The Piano Music of Vaughan Williams by Mark Bebbington and Rebecca Omordia at no. 17 and Elgar: Symphony No. 2 from Vasily Petrenko with the Royal Liverpool Philharmonic Orchestra at no. 18. There are also many reentries this week, including James Horner's soundtrack for Braveheart, A Year of Songs from Classic FM Presenter Alexander Armstrong and 100 Relaxing Classics, all featuring in the lower third of the chart.
And finally this week, after countless weeks back inside the top 30, we finally say goodbye to former no. 1 from Classic FM Presenter Aled Jones, One Voice.
This
Week
Last
Week
Title & Artist
1
1
ISLANDS - ESSENTIAL EINAUDI, LUDOVICO EINAUDI


Buy from Amazon

-

Download from iTunes

2
NEW
BACH/GOLDBERG VARIATIONS, BEATRICE RANA


Buy from Amazon

-

Download from iTunes

3
2
THREE WORLDS - MUSIC FROM WOOLF WORKS, MAX RICHTER


Buy from Amazon

-

Download from iTunes

4
20
ZIMMER/THE CLASSICS, VARIOUS ARTISTS


Buy from Amazon

-

Download from iTunes

5
6
THE 50 GREATEST PIECES OF CLASSICAL MUSIC, LPO/PARRY


Buy from Amazon

-

Download from iTunes

6
4
THE CLASSICAL ALBUM, VARIOUS ARTISTS


Buy from Amazon

-

Download from iTunes

7
5
ELEMENTS, LUDOVICO EINAUDI


Buy from Amazon

-

Download from iTunes

8
3
CLASSIC FM - A NIGHT AT THE MOVIES, VARIOUS ARTISTS


Buy from Amazon

-

Download from iTunes

9
7
LION - OST, DUSTIN O'HALLORAN & HAUSCHKA


Buy from Amazon

-

Download from iTunes

10
10
THE LORD OF THE RINGS - TRILOGY - OST, HOWARD SHORE


Buy from Amazon

-

Download from iTunes

11
13
THE BLUE NOTEBOOKS, MAX RICHTER


Buy from Amazon

-

Download from iTunes

12
9
IN A TIME LAPSE, LUDOVICO EINAUDI


Buy from Amazon

-

Download from iTunes

13
8
ROGUE ONE - A STAR WARS STORY - OST, MICHAEL GIACCHINO


Buy from Amazon

-

Download from iTunes

14
NEW
RACHMANINOV/PREGHIERA/PIANO TRIOS, KREMER/TRIFONOV/DIRVANAUSKAITE


Buy from Amazon

-

Download from iTunes

15
15
GAME OF THRONES - SEASON 6 - OST, RAMIN DJAWADI


Buy from Amazon

-

Download from iTunes

16
12
SLEEP, MAX RICHTER


Buy from Amazon

-

Download from iTunes

17
NEW
VAUGHAN WILLIAMS/THE PIANO MUSIC OF, BEBBINGTON/OMORDIA


Buy from Amazon

-

Download from iTunes

18
NEW
ELGAR/SYMPHONY 2/MINA/CARISSIMA/CHANSON, RLPO/PETRENKO


Buy from Amazon

-

Download from iTunes

19
16
GLADIATOR - OST, HANS ZIMMER & LISA GERRARD


Buy from Amazon

-

Download from iTunes

20
11
BELIEVE, JONATHAN ANTOINE


Buy from Amazon

-

Download from iTunes

21
19
THE LORD OF THE RINGS - OST, HOWARD SHORE


Buy from Amazon

-

Download from iTunes

22
24
DIVENIRE, LUDOVICO EINAUDI


Buy from Amazon

-

Download from iTunes

23
21
THE LITTLE MERMAID - OST, ALAN MENKEN


Buy from Amazon

-

Download from iTunes

24
14
STAR WARS - THE FORCE AWAKENS - OST, JOHN WILLIAMS


Buy from Amazon

-

Download from iTunes

25
RE
BRAVEHEART - OST, LSO/HORNER


Buy from Amazon

-

Download from iTunes

26
29
THE ARMED MAN - A MASS FOR PEACE, KARL JENKINS


Buy from Amazon

-

Download from iTunes

27
25
THE LOST SONGS OF ST KILDA, MORRISON/SFO/MACMILLAN


Buy from Amazon

-

Download from iTunes

28
RE
A YEAR OF SONGS, ALEXANDER ARMSTRONG


Buy from Amazon

-

Download from iTunes

29
23
INCEPTION - OST, HANS ZIMMER


Buy from Amazon

-

Download from iTunes

30
RE
100 HITS - RELAXING CLASSICS, VARIOUS ARTISTS


Buy from Amazon

-

Download from iTunes