Classic FM Chart: Einaudi stays at no. 1 and is joined by an incredible 9 new entries
9 July 2017, 18:55 | Updated: 10 July 2017, 09:44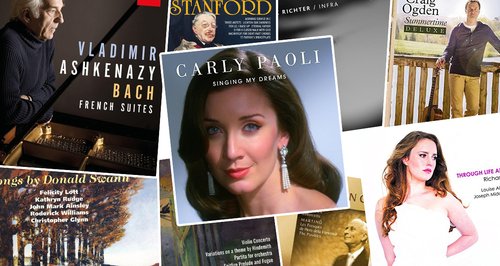 Both Einaudi's Islands and Rupert Gregson Williams's soundtrack for Wonder Woman are non-movers in this week's Classic FM Chart, holding on to the top two spots. Meanwhile, the rest of the top ten has had a major reshuffle, as it is disrupted by an amazing five new entries. Carly Paoli's Singing My Dreams and Craig Odgen's re-release of Summertime enter the chart at no. 3 and no. 4, pushing Peaceful Piano down to no. 5. At no. 6 this week is Max Richter's Infra and at no. 7 is the new album from Trinity College Choir. Einaudi's Elements has also been pushed down to no. 8 by the new entries, meanwhile The 50 Greatest Pieces of Classical Music manages to hold onto it's place at no. 9, but the Czech Philharmonic Orchestra's new Janacek and Martinu recordings are not far behind at no. 10 as the fifth new entry.
There are a further four new entries in the rest of the Classic FM Chart, bringing this week's total to a staggering total of nine: Songs by Donald enters the chart at no. 21, at no. 22 is Walton's Violin Concerto, Through Life and Love is at no. 23 and finally Vladamir Askenazy's recordings of Bach's French Suites enters the chart at no. 25. To add to the list of new additions in the Classic FM Chart this week, there are also two reentries - the first is Andrea Bocelli's Cinema at no. 15 as well as the soundtrack to Poldark at no. 27.
Finally, there is not a stand-out highest climber this week due to all the new entries, however the biggest faller this week is Hans Zimmer: The Classics which stays just inside the top 30 after falling 17 places from no. 12 to no. 29, meanwhile Einaudi's In A Time Lapse and Andre Rieu's Love In Venice both also fall 10 places each.
This
Week
Last
Week
Title & Artist
1
1
ISLANDS - ESSENTIAL EINAUDI, LUDOVICO EINAUDI


Buy from Amazon

-

Download from iTunes

2
2
WONDER WOMAN - OST, RUPERT GREGSON WILLIAMS


Buy from Amazon

-

Download from iTunes

3
NEW
SINGING MY DREAMS, CARLY PAOLI


Buy from Amazon

-

Download from iTunes

4
NEW
SUMMERTIME, CRAIG OGDEN


Buy from Amazon

-

Download from iTunes

5
3
PEACEFUL PIANO, VARIOUS ARTISTS


Buy from Amazon

-

Download from iTunes

6
NEW
INFRA, MAX RICHTER


Buy from Amazon

-

Download from iTunes

7
NEW
STANFORD/CHORAL MUSIC, TRINITY COLLEGE CHOIR/LAYTON


Buy from Amazon

-

Download from iTunes

8
5
ELEMENTS, LUDOVICO EINAUDI


Buy from Amazon

-

Download from iTunes

9
9
THE 50 GREATEST PIECES OF CLASSICAL MUSIC, LPO/PARRY


Buy from Amazon

-

Download from iTunes

10
NEW
JANACEK/MARTINU/SINFONIETTA, CPO/ANCERL


Buy from Amazon

-

Download from iTunes

11
7
GAME OF THRONES - SEASON 6 - OST, RAMIN DJAWADI


Buy from Amazon

-

Download from iTunes

12
16
REMEMBERED, KATHLEEN FERRIER


Buy from Amazon

-

Download from iTunes

13
6
GLADIATOR - OST, HANS ZIMMER & LISA GERRARD


Buy from Amazon

-

Download from iTunes

14
13
THE LORD OF THE RINGS - TRILOGY - OST, HOWARD SHORE


Buy from Amazon

-

Download from iTunes

15
RE
CINEMA, ANDREA BOCELLI


Buy from Amazon

-

Download from iTunes

16
11
THE LITTLE MERMAID - OST, ALAN MENKEN


Buy from Amazon

-

Download from iTunes

17
15
CLASSIC FM HALL OF FAME - THE SILVER, VARIOUS ARTISTS


Buy from Amazon

-

Download from iTunes

18
8
LOVE IN VENICE, ANDRE RIEU & JOHANN STRAUSS OR


Buy from Amazon

-

Download from iTunes

19
24
THE COMPLETE HARRY POTTER FILM MUSIC, CITY OF PRAGUE PO


Buy from Amazon

-

Download from iTunes

20
10
IN A TIME LAPSE, LUDOVICO EINAUDI


Buy from Amazon

-

Download from iTunes

21
NEW
SONGS BY DONALD SWANN, LOTT/RUDGE/AINSLEY/WILLIAMS


Buy from Amazon

-

Download from iTunes

22
NEW
WALTON/VIOLIN CONCERTO/VARIATIONS, MARWOOD/BBC SSO/BRABBINS


Buy from Amazon

-

Download from iTunes

23
NEW
STRAUSS/THROUGH LIFE & LOVE, ALDER/MIDDLETON


Buy from Amazon

-

Download from iTunes

24
25
THE BLUE NOTEBOOKS, MAX RICHTER


Buy from Amazon

-

Download from iTunes

25
NEW
BACH/FRENCH SUITES, VLADIMIR ASHKENAZY


Buy from Amazon

-

Download from iTunes

26
19
PROKOFIEV/PETER AND THE WOLF, BOWIE/PHILADELPHIA OR/ORMANDY


Buy from Amazon

-

Download from iTunes

27
RE
POLDARK - OST, ANNE DUDLEY


Buy from Amazon

-

Download from iTunes

28
23
SCORE, 2CELLOS


Buy from Amazon

-

Download from iTunes

29
12
ZIMMER/THE CLASSICS, VARIOUS ARTISTS


Buy from Amazon

-

Download from iTunes

30
27
THE LORD OF THE RINGS - OST, HOWARD SHORE


Buy from Amazon

-

Download from iTunes