Classic FM Chart: The Classical Album is back at No.1, while Hans Zimmer drops ten places
29 January 2017, 18:55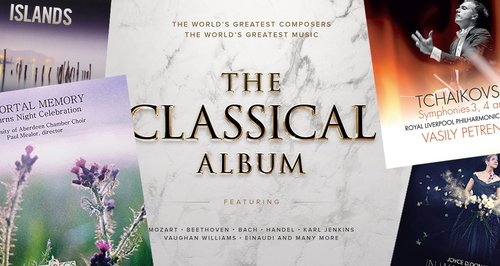 29th January:29th January: The Classical Album jumps back up to no. 1, while last week's No.1 from Hans Zimmer plummets ten places.
The Classical Album, which has stayed within the top two spots since it re-entered the chart two weeks ago, has returned to No.1. Last week, Hans Zimmer's The Classics entered the chart straight into first place, however in its second week it has dropped a huge ten places to No.11.
Other highlights from this week's chart include two new entries in the top ten. The new album from Paul Mealor and the University of Aberdeen Chamber Choir, Immortal Memory – A Burns Night Celebration, joined the chart at No.4, while Vasily Petrenko conducting Tchaikovsky: Symphonies 3, 4 & 6 with the Royal Liverpool Philharmonic Orchestra entered the chart at No.6.
There are six re-enteries this week, including albums from mezzo-soprano Joyce Didonato, tenor Jonathan Antoine, composer Max Richter, Alan Menken's score for The Little Mermaid, and Hans Zimmer's collaboration with Lisa Gerrard for Gladiator.
Elsewhere in the chart, the Vienna Philharmonic Orchestra and Gustavo Dudamel's New Year's Concert 2017 has fallen fourteen places from within the top five to No.18, and is overtaken by this week's highest climber, The Lost Songs of St Kilda, which climbed thirteen places.
This
Week
Last
Week
Title & Artist
1
2
THE CLASSICAL ALBUM, VARIOUS ARTISTS


Buy from Amazon

-

Download from iTunes

2
3
ISLANDS - ESSENTIAL EINAUDI, LUDOVICO EINAUDI


Buy from Amazon

-

Download from iTunes

3
RE
IN WAR & PEACE, JOYCE DIDONATO


Buy from Amazon

-

Download from iTunes

4
NEW
IMMORTAL MEMORY - A BURNS NIGHT, UNI ABERDEEN CHAMBER CH/MEALOR


Buy from Amazon

-

Download from iTunes

5
5
ROGUE ONE - A STAR WARS STORY - OST, MICHAEL GIACCHINO


Buy from Amazon

-

Download from iTunes

6
NEW
TCHAIKOVSKY/SYMPHONIES 3 4 & 6, RLPO/PETRENKO


Buy from Amazon

-

Download from iTunes

7
6
BILL TURNBULL'S RELAXING CLASSICS, VARIOUS ARTISTS


Buy from Amazon

-

Download from iTunes

8
8
THE 50 GREATEST PIECES OF CLASSICAL MUSIC, LPO/PARRY


Buy from Amazon

-

Download from iTunes

9
10
BRUNO TONIOLI: AN ITALIAN ROMANCE, VARIOUS ARTISTS


Buy from Amazon

-

Download from iTunes

10
9
ONE VOICE, ALED JONES


Buy from Amazon

-

Download from iTunes

11
1
ZIMMER/THE CLASSICS, VARIOUS ARTISTS


Buy from Amazon

-

Download from iTunes

12
12
ELEMENTS, LUDOVICO EINAUDI


Buy from Amazon

-

Download from iTunes

13
RE
BELIEVE, JONATHAN ANTOINE


Buy from Amazon

-

Download from iTunes

14
22
A YEAR OF SONGS, ALEXANDER ARMSTRONG


Buy from Amazon

-

Download from iTunes

15
7
STAR WARS - RETURN OF THE JEDI - OST, LSO/WILLIAMS


Buy from Amazon

-

Download from iTunes

16
29
THE LOST SONGS OF ST KILDA, MORRISON/SFO/MACMILLAN


Buy from Amazon

-

Download from iTunes

17
14
GAME OF THRONES - SEASON 6 - OST, RAMIN DJAWADI


Buy from Amazon

-

Download from iTunes

18
4
NEW YEAR'S CONCERT 2017, VP/DUDAMEL


Buy from Amazon

-

Download from iTunes

19
17
STAR WARS - THE FORCE AWAKENS - OST, JOHN WILLIAMS


Buy from Amazon

-

Download from iTunes

20
18
IN A TIME LAPSE, LUDOVICO EINAUDI


Buy from Amazon

-

Download from iTunes

21
RE
THE BLUE NOTEBOOKS, MAX RICHTER


Buy from Amazon

-

Download from iTunes

22
27
THE LORD OF THE RINGS - TRILOGY - OST, HOWARD SHORE


Buy from Amazon

-

Download from iTunes

23
23
FANTASTIC BEASTS AND WHERE TO FIND THEM, JAMES NEWTON HOWARD


Buy from Amazon

-

Download from iTunes

24
RE
SLEEP, MAX RICHTER


Buy from Amazon

-

Download from iTunes

25
15
STAR WARS - EPISODE 5 - THE EMPIRE, LSO/WILLIAMS


Buy from Amazon

-

Download from iTunes

26
RE
THE LITTLE MERMAID - OST, ALAN MENKEN


Buy from Amazon

-

Download from iTunes

27
19
PLANET EARTH 2 - OST, HANS ZIMMER/J SHEA/J KLEBE


Buy from Amazon

-

Download from iTunes

28
26
CLASSIC FM - A NIGHT AT THE MOVIES, VARIOUS ARTISTS


Buy from Amazon

-

Download from iTunes

29
RE
GLADIATOR - OST, HANS ZIMMER & LISA GERRARD


Buy from Amazon

-

Download from iTunes

30
28
STAR WARS - EPISODE 4 - A NEW HOPE - OST, LSO/WILLIAMS


Buy from Amazon

-

Download from iTunes