Classic FM Chart: top three all non-movers
12 February 2017, 18:55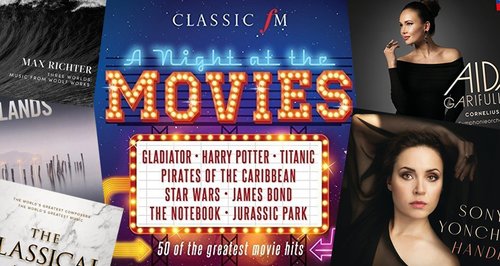 12th February: The top three albums in the Classic FM Chart all stay in the same places this week, plus new entries from Aida Garifullina and Sonya Yoncheva.
Max Richter's new album Three Worlds, which entered the chart last week straight at no. 1, has stayed in the top spot this week. Both Einaudi's Islands and The Classical Album are also non-movers this week, meaning the top three stays exactly the same.
The highlight of this week's chart is Classic FM's own A Night at the Movies, which is this week's highest climber jumping a staggering 19 places up to no. 11, possibly due to the Oscars season drawing to a close.
This week's biggest faller is Jonathan Antoine's Believe, which drops 20 places from no. 4 to no. 24. However, this was a re-entry last week.
There are only two new entries this week, both sopranos and both arriving into the lower end of the chart. Sonya Yoncheva's new album Handel enters the chart at no. 26 and Aida Garifullina's latest album, which includes this extremely glamorous music video, is at no. 29.
Six out of seven re-entries this week are film and television soundtracks, with appearances from Lord of the Rings, The Little Mermaid, Planet Earth II, Gladiator, Star Wars: A New Hope, Star Wars: The Empire Strikes Back, and the only non-soundtrack is The Lost Songs of St Kilda by Trevor Morrison and the Scottish Festival Orchestra.
This
Week
Last
Week
Title & Artist
1
1
THREE WORLDS - MUSIC FROM WOOLF WORKS, MAX RICHTER


Buy from Amazon

-

Download from iTunes

2
2
ISLANDS - ESSENTIAL EINAUDI, LUDOVICO EINAUDI


Buy from Amazon

-

Download from iTunes

3
3
THE CLASSICAL ALBUM, VARIOUS ARTISTS


Buy from Amazon

-

Download from iTunes

4
7
THE 50 GREATEST PIECES OF CLASSICAL MUSIC, LPO/PARRY


Buy from Amazon

-

Download from iTunes

5
6
SLEEP, MAX RICHTER


Buy from Amazon

-

Download from iTunes

6
11
BILL TURNBULL'S RELAXING CLASSICS, VARIOUS ARTISTS


Buy from Amazon

-

Download from iTunes

7
12
ELEMENTS, LUDOVICO EINAUDI


Buy from Amazon

-

Download from iTunes

8
9
ROGUE ONE - A STAR WARS STORY - OST, MICHAEL GIACCHINO


Buy from Amazon

-

Download from iTunes

9
14
THE BLUE NOTEBOOKS, MAX RICHTER


Buy from Amazon

-

Download from iTunes

10
17
THE LORD OF THE RINGS - TRILOGY - OST, HOWARD SHORE


Buy from Amazon

-

Download from iTunes

11
30
CLASSIC FM - A NIGHT AT THE MOVIES, VARIOUS ARTISTS


Buy from Amazon

-

Download from iTunes

12
24
STAR WARS - THE FORCE AWAKENS - OST, JOHN WILLIAMS


Buy from Amazon

-

Download from iTunes

13
15
ONE VOICE, ALED JONES


Buy from Amazon

-

Download from iTunes

14
13
BRUNO TONIOLI: AN ITALIAN ROMANCE, VARIOUS ARTISTS


Buy from Amazon

-

Download from iTunes

15
19
IN A TIME LAPSE, LUDOVICO EINAUDI


Buy from Amazon

-

Download from iTunes

16
RE
STAR WARS - EPISODE 5 - THE EMPIRE, LSO/WILLIAMS


Buy from Amazon

-

Download from iTunes

17
16
BACH/CANTATAS 54 82 & 170, DAVIES/ARCANGELO/COHEN


Buy from Amazon

-

Download from iTunes

18
23
GAME OF THRONES - SEASON 6 - OST, RAMIN DJAWADI


Buy from Amazon

-

Download from iTunes

19
25
LION - OST, DUSTIN O'HALLORAN & HAUSCHKA


Buy from Amazon

-

Download from iTunes

20
RE
THE LOST SONGS OF ST KILDA, MORRISON/SFO/MACMILLAN


Buy from Amazon

-

Download from iTunes

21
29
PHILIP GLASS/PIANO WORKS, VIKINGUR OLAFSSON


Buy from Amazon

-

Download from iTunes

22
18
ZIMMER/THE CLASSICS, VARIOUS ARTISTS


Buy from Amazon

-

Download from iTunes

23
RE
THE LORD OF THE RINGS - OST, HOWARD SHORE


Buy from Amazon

-

Download from iTunes

24
4
BELIEVE, JONATHAN ANTOINE


Buy from Amazon

-

Download from iTunes

25
RE
GLADIATOR - OST, HANS ZIMMER & LISA GERRARD


Buy from Amazon

-

Download from iTunes

26
NEW
HANDEL, SONYA YONCHEVA


Buy from Amazon

-

Download from iTunes

27
RE
STAR WARS - EPISODE 4 - A NEW HOPE - OST, LSO/WILLIAMS


Buy from Amazon

-

Download from iTunes

28
RE
THE LITTLE MERMAID - OST, ALAN MENKEN


Buy from Amazon

-

Download from iTunes

29
NEW
AIDA, GARIFULLINA/RSO WIEN/MEISTER


Buy from Amazon

-

Download from iTunes

30
RE
PLANET EARTH 2 - OST, HANS ZIMMER/J SHEA/J KLEBE


Buy from Amazon

- Download from iTunes