Classic FM Chart: Alan Titchmarsh and Debbie Wiseman cling on to top spot
25 March 2018, 18:55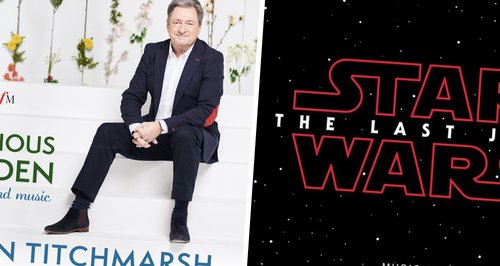 This week in the Classic FM Chart, The Glorious Garden clings on once again to the top spot, and John Williams makes an almighty leap back into the top 10.
Alan Titchmarsh and Debbie Wiseman have managed to hold on to the top spot again, with The Glorious Garden remaining at no. 1. Elsewhere in the top 10, John Williams' soundtrack for Star Wars: The Last Jedi leaps from no. 22 all the way up to no. 6, due in no small part to the movie's impending availability for download.
Max Richter is another big climber this week, re-entering the chart at no. 3 with his Sleep album, while new entries from the BBC Symphony Orchestra and soprano Joanne McGaghon arrive at nos. 7 and 9 respectively. Alexandre Desplat's Academy Award-winning soundtrack for The Shape Of Water splashes out of the top 10, ending up at no. 14.
Elsewhere in the chart, Alfred Brendel and a recording of Bach's B Minor Mass are the other notable new entries, while Game Of Thrones fans will be delighted to see Ramin Djawadi's scores for both seasons 6 and 7 rounding out the bottom end.
This
Week
Last
Week
Title & Artist
1
1
THE GLORIOUS GARDEN, TITCHMARSH/NATIONAL SO/WISEMAN


Buy from Amazon

-

Download from iTunes

2
3
ISLANDS - ESSENTIAL EINAUDI, LUDOVICO EINAUDI


Buy from Amazon

-

Download from iTunes

3
RE
SLEEP, MAX RICHTER


Buy from Amazon

-

Download from iTunes

4
4
INSPIRATION, SHEKU KANNEH-MASON


Buy from Amazon

-

Download from iTunes

5
2
AMORE, ANDRE RIEU


Buy from Amazon

-

Download from iTunes

6
22
STAR WARS - THE LAST JEDI - OST, JOHN WILLIAMS


Buy from Amazon

-

Download from iTunes

7
NEW
FERNEYHOUGH/LA TERRE EST UN HOMME, BBC SO/BRABBINS/WEEKS


Buy from Amazon

-

Download from iTunes

8
8
THE LITTLE MERMAID - OST, ALAN MENKEN


Buy from Amazon

-

Download from iTunes

9
NEW
THE LONDON SOPRANO, JOANNE MCGAHON


Buy from Amazon

-

Download from iTunes

10
16
THE 50 GREATEST PIECES OF CLASSICAL, LPO/PARRY


Buy from Amazon

-

Download from iTunes

11
11
THE LORD OF THE RINGS - TRILOGY - OST, HOWARD SHORE


Buy from Amazon

-

Download from iTunes

12
10
DIVENIRE, LUDOVICO EINAUDI


Buy from Amazon

-

Download from iTunes

13
18
IN A TIME LAPSE, LUDOVICO EINAUDI


Buy from Amazon

-

Download from iTunes

14
5
THE SHAPE OF WATER, ORIGINAL SOUNDTRACK


Buy from Amazon

-

Download from iTunes

15
17
GLADIATOR - OST, HANS ZIMMER & LISA GERRARD


Buy from Amazon

-

Download from iTunes

16
15
ELEMENTS, LUDOVICO EINAUDI


Buy from Amazon

-

Download from iTunes

17
19
THE LORD OF THE RINGS - OST, HOWARD SHORE


Buy from Amazon

-

Download from iTunes

18
13
SCORE, 2CELLOS


Buy from Amazon

-

Download from iTunes

19
6
BEETHOVEN/PIANO SONATAS, MURRAY PERAHIA


Buy from Amazon

-

Download from iTunes

20
NEW
SCHUMANN/BRAHMS/LIVE IN VIENNA, BRENDEL/VP/RATTLE


Buy from Amazon

-

Download from iTunes

21
NEW
BACH/MASS IN B MINOR, CHRISTIE/DES ARTS FLORISSANTS


Buy from Amazon

-

Download from iTunes

22
29
THE BLUE NOTEBOOKS, MAX RICHTER


Buy from Amazon

-

Download from iTunes

23
RE
JUSTICE LEAGUE - OST, DANNY ELFMAN


Buy from Amazon

-

Download from iTunes

24
14
LANDFALL, LAURIE ANDERSON/KRONOS QUARTET


Buy from Amazon

-

Download from iTunes

25
27
I GIORNI, LUDOVICO EINAUDI


Buy from Amazon

-

Download from iTunes

26
30
UNA MATTINA, LUDOVICO EINAUDI


Buy from Amazon

-

Download from iTunes

27
24
GAME OF THRONES - SEASON 7 - OST, RAMIN DJAWADI


Buy from Amazon

-

Download from iTunes

28
RE
GAME OF THRONES - SEASON 6 - OST, RAMIN DJAWADI


Buy from Amazon

-

Download from iTunes

29
25
THE ARMED MAN - A MASS FOR PEACE, KARL JENKINS


Buy from Amazon

-

Download from iTunes

30
RE
THE VERY BEST OF, KARL JENKINS


Buy from Amazon

-

Download from iTunes