Classic FM Chart: new entries for James Horner and Leonard Bernstein
19 August 2018, 18:55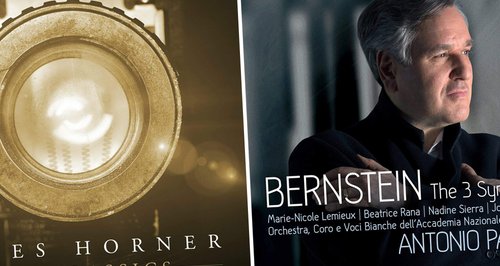 Einaudi holds the top spot, but two legends of American music enter the top 10...
The late, great composers James Horner and Leonard Bernstein made their respective marks on the chart this week. A new compilation of James Horner's greatest movie music moments, performed by a new crop of young artists including Lindsey Stirling and Tina Guo, entered at no 7, while Bernstein's symphonies 1-3 conducted by Antonio Pappano snuck in behind at no.8.
The top three remain the same: Ludovico Einaudi's perennially popular compilation holds the top spot after reclaiming it last week, while Sheku Kanneh-Mason and Classic FM's 'The Classics You Know' compilation hold strong.
This
Week
Last
Week
Title & Artist
1
1
ISLANDS - ESSENTIAL EINAUDI, LUDOVICO EINAUDI


Download from iTunes

-

Buy from Amazon

2
2
INSPIRATION, SHEKU KANNEH-MASON


Download from iTunes

-

Buy from Amazon

3
3
THE CLASSICS YOU KNOW, ROYAL PHILHARMONIC ORCHESTRA


Download from iTunes

-

Buy from Amazon

4
5
THE LITTLE MERMAID - OST, ALAN MENKEN


Download from iTunes

-

Buy from Amazon

5
6
THE 50 GREATEST PIECES OF CLASSICAL, LPO/PARRY


Download from iTunes

-

Buy from Amazon

6
7
THE LORD OF THE RINGS - TRILOGY - OST, HOWARD SHORE


Download from iTunes

-

Buy from Amazon

7
NEW
THE CLASSICS, JAMES HORNER


Download from iTunes

-

Buy from Amazon

8
NEW
BERNSTEIN/THE 3 SYMPHONIES, SANTA CECILIA OR/PAPPANO


Download from iTunes

-

Buy from Amazon

9
9
DIVENIRE, LUDOVICO EINAUDI


Download from iTunes

-

Buy from Amazon

10
19
JOHN WILLIAMS - A LIFE IN MUSIC, LSO/GREENAWAY


Download from iTunes

-

Buy from Amazon

11
15
THE LORD OF THE RINGS - OST, HOWARD SHORE
12
16
THE BLUE NOTEBOOKS, MAX RICHTER


Download from iTunes

-

Buy from Amazon

13
10
ELEMENTS, LUDOVICO EINAUDI


Download from iTunes

-

Buy from Amazon

14
18
IN A TIME LAPSE, LUDOVICO EINAUDI


Download from iTunes

-

Buy from Amazon

15
13
GLADIATOR - OST, HANS ZIMMER & LISA GERRARD


Download from iTunes

-

Buy from Amazon

16
14
SLEEP, MAX RICHTER


Download from iTunes

-

Buy from Amazon

17
11
VIVALDI X2 - DOUBLE CONCERTOS FOR OBOES, LA SERENISSIMA/ADRIAN CHANDLER


Buy from Amazon

18
NEW
MOZART/PIANO QUARTETS, BARENBOIM/DEYNEKA/SOLTANI


Download from iTunes

-

Buy from Amazon

19
4
ANGEL, ELAN CATRIN PARRY


Download from iTunes

-

Buy from Amazon

20
8
AMORE, ANDRE RIEU


Download from iTunes

-

Buy from Amazon

21
12
SCORE, 2CELLOS


Download from iTunes

-

Buy from Amazon

22
23
CLASSICAL CHILLOUT, VARIOUS ARTISTS


Download from iTunes

-

Buy from Amazon

23
26
GAME OF THRONES - SEASON 6 - OST, RAMIN DJAWADI


Download from iTunes

-

Buy from Amazon

24
RE
THE COMPLETE HARRY POTTER FILM MUSIC, CITY OF PRAGUE PO


Download from iTunes

-

Buy from Amazon

25
21
INCREDIBLES 2 - OST, MICHAEL GIACCHINO


Download from iTunes

-

Buy from Amazon

26
27
UNA MATTINA, LUDOVICO EINAUDI


Download from iTunes

-

Buy from Amazon

27
24
POLDARK - OST, ANNE DUDLEY


Download from iTunes

-

Buy from Amazon

28
25
I GIORNI, LUDOVICO EINAUDI


Download from iTunes

-

Buy from Amazon

29
RE
BRAVEHEART - OST, LSO/HORNER


Download from iTunes

-

Buy from Amazon

30
RE
THE PIANO ALBUM, ALISTAIR MCGOWAN


Download from iTunes

-

Buy from Amazon