Classic FM Chart: Bocelli stays at No.1 ahead of Aled Jones and Russell Watson
18 November 2018, 18:55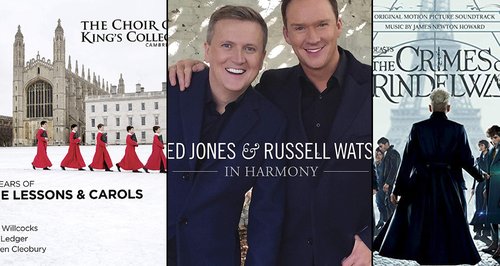 Andrea Bocelli's album 'Sì' stays at No. 1, even with an influx of new albums in the top 10.
Andrea Bocelli dominates the chart for the third week in a row with his new album Sì.
Two new releases follow at No. 2 and 3: In Harmony by Aled Jones and Russell Watson and a compilation album, The Ultimate Classical Collection, from UMOD. James Newton-Howard's new film soundtrack Fantastic Beasts – The Crimes of Grindelwald has also entered the chart at No.8.
Other new chart entries include 100 Years of Nine Lessons & Carols by The Choir of King's College Cambridge, and The Nation's Favourite Carols by Royal Philharmonic Orchestra and City of London Choir. They join two other Christmas albums on the chart – Best of Christmas by André Rieu and Carols from King's College Cambridge.
Following the Armistice Centenary this week, The Armed Man – A Mass for Peace by Karl Jenkins has re-entered at No. 19.
This
Week
Last
Week
Title & Artist
1
1
SI, ANDREA BOCELLI


Download from iTunes

-

Buy from Amazon

2
NEW
IN HARMONY, ALED JONES & RUSSELL WATSON


Download from iTunes

-

Buy from Amazon

3
NEW
THE ULTIMATE CLASSICAL COLLECTION, VARIOUS ARTISTS


Buy from Amazon

4
3
EVOLUTION, ALEXIS FFRENCH


Download from iTunes

-

Buy from Amazon

5
2
DREAMS AND SONGS, BRYN TERFEL


Download from iTunes

-

Buy from Amazon

6
5
INSPIRATION, SHEKU KANNEH-MASON


Download from iTunes

-

Buy from Amazon

7
4
ISLANDS - ESSENTIAL EINAUDI, LUDOVICO EINAUDI


Download from iTunes

-

Buy from Amazon

8
NEW
FANTASTIC BEASTS - CRIMES OF GRINDELWALD, JAMES NEWTON HOWARD


Download from iTunes

-

Buy from Amazon

9
11
BEST OF CHRISTMAS, ANDRE RIEU & JOHANN STRAUSS OR


Download from iTunes

-

Buy from Amazon

10
NEW
100 YEARS OF NINE LESSONS & CAROLS, KING'S CC/WILLCOCKS/LEDGER


Download from iTunes

-

Buy from Amazon

11
14
THE 50 GREATEST PIECES OF CLASSICAL, LPO/PARRY


Download from iTunes

-

Buy from Amazon

12
8
THE GREAT WAR SYMPHONY, HAWES/RPO/NATIONAL YOUTH CHRS


Download from iTunes

-

Buy from Amazon

13
7
THE REAL CLASSICAL, VARIOUS ARTISTS


Buy from Amazon

14
18
SLEEP, MAX RICHTER


Download from iTunes

-

Buy from Amazon

15
16
THE LORD OF THE RINGS - TRILOGY - OST, HOWARD SHORE
16
13
THE LITTLE MERMAID - OST, ALAN MENKEN


Download from iTunes

-

Buy from Amazon

17
6
CINEMA, ANDREA BOCELLI


Download from iTunes

-

Buy from Amazon

18
15
DIVENIRE, LUDOVICO EINAUDI


Download from iTunes

-

Buy from Amazon

19
RE
THE ARMED MAN - A MASS FOR PEACE, KARL JENKINS


Download from iTunes

-

Buy from Amazon

20
21
ELEMENTS, LUDOVICO EINAUDI


Download from iTunes

-

Buy from Amazon

21
19
THE LORD OF THE RINGS - OST, HOWARD SHORE
22
25
SCORE, 2CELLOS


Download from iTunes

-

Buy from Amazon

23
26
IN A TIME LAPSE, LUDOVICO EINAUDI


Download from iTunes

-

Buy from Amazon

24
10
THE NUTCRACKER AND THE FOUR REALMS - OST, JAMES NEWTON HOWARD


Download from iTunes

-

Buy from Amazon

25
20
JOHN WILLIAMS - A LIFE IN MUSIC, LSO/GREENAWAY


Download from iTunes

-

Buy from Amazon

26
RE
CAROLS FROM KING'S COLLEGE CAMBRIDGE, KING'S COLLEGE CHOIR/WILLCOCKS


Download from iTunes

-

Buy from Amazon

27
22
GLADIATOR - OST, HANS ZIMMER & LISA GERRARD


Download from iTunes

-

Buy from Amazon

28
30
THE BLUE NOTEBOOKS, MAX RICHTER


Download from iTunes

-

Buy from Amazon

29
NEW
THE NATION'S FAVOURITE CAROLS, RPO/CITY LONDON CH/WETTON


Download from iTunes

-

Buy from Amazon

30
RE
UNA MATTINA, LUDOVICO EINAUDI


Download from iTunes

-

Buy from Amazon