Classic FM Chart: Bocelli jumps back to No. 1
23 June 2019, 18:55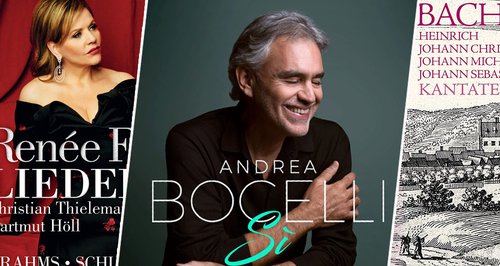 Andrea Bocelli makes a comeback at No. 1 with his latest album Sì in this week's chart.
After taking silver last week, Andrea Bocelli returns to the No. 1 spot in this week's chart with his album Sì. The 100 Hits compilation album falls to No. 2 this week, and Einaudi's Islands album stays at No. 3.
As she makes a return to the London stage this week in The Light in the Piazza, Renée Fleming's Brahms, Schumann & Mahler: Lieder album recorded with Christian Thielemann and Hartmut Höll enters the chart at No. 23, ahead of the other new chart entry, Vox Luminis' Bach Kantaten album at No. 30.
Three new entries make it on to the chart at Nos. 17, 26 and 29, including Einaudi's Elements at No. 17 and Weinberg: Symphonies Nos. 2 & 21 recorded by the CBSO and Mirga Gražinyté-Tyla re-enters at No. 29.
This
Week
Last
Week
Title & Artist
1
2
SI, ANDREA BOCELLI


Download from iTunes

-

Buy from Amazon

2
1
100 HITS - THE BEST CLASSICAL ALBUM, VARIOUS ARTISTS


Buy from Amazon

3
3
ISLANDS - ESSENTIAL EINAUDI, LUDOVICO EINAUDI


Download from iTunes

-

Buy from Amazon

4
4
AVENGERS - ENDGAME - OST, ALAN SILVESTRI


Download from iTunes

-

Buy from Amazon

5
8
SEVEN DAYS WALKING - DAY ONE, LUDOVICO EINAUDI


Download from iTunes

-

Buy from Amazon

6
9
THE LITTLE MERMAID - OST, ALAN MENKEN


Download from iTunes

-

Buy from Amazon

7
6
GAME OF THRONES - SEASON 8 - OST, RAMIN DJAWADI


Download from iTunes

-

Buy from Amazon

8
16
SLEEP, MAX RICHTER


Download from iTunes

-

Buy from Amazon

9
14
THE LORD OF THE RINGS - TRILOGY - OST, HOWARD SHORE
10
18
IN A TIME LAPSE, LUDOVICO EINAUDI


Download from iTunes

-

Buy from Amazon

11
13
LISE DAVIDSEN, DAVIDSEN/PHILHARMONIA OR


Download from iTunes

-

Buy from Amazon

12
20
PIANO BOOK, LANG LANG


Download from iTunes

-

Buy from Amazon

13
21
UNA MATTINA, LUDOVICO EINAUDI


Download from iTunes

-

Buy from Amazon

14
23
THE BLUE NOTEBOOKS, MAX RICHTER


Download from iTunes

-

Buy from Amazon

15
17
GAME OF THRONES - SEASON 6 - OST, RAMIN DJAWADI


Download from iTunes

-

Buy from Amazon

16
19
THE 50 GREATEST PIECES OF CLASSICAL, LPO/PARRY


Download from iTunes

-

Buy from Amazon

17
RE-ENTRY
ELEMENTS, LUDOVICO EINAUDI


Download from iTunes

-

Buy from Amazon

18
26
THE LORD OF THE RINGS - OST, HOWARD SHORE
19
28
GLADIATOR - OST, HANS ZIMMER & LISA GERRARD


Download from iTunes

-

Buy from Amazon

20
12
THE GREATEST HITS, LUCIANO PAVAROTTI


Download from iTunes

-

Buy from Amazon

21
24
ROMANTIC MOMENTS II, ANDRE RIEU & JOHANN STRAUSS OR


Download from iTunes

-

Buy from Amazon

22
30
RISE, JESS GILLAM


Download from iTunes

-

Buy from Amazon

23
NEW
BRAHMS/SCHUMANN/MAHLER, RENEE FLEMING/HOLL/THIELEMANN


Download from iTunes

-

Buy from Amazon

24
11
SEVEN DAYS WALKING - DAY THREE, LUDOVICO EINAUDI


Download from iTunes

-

Buy from Amazon

25
22
GUIDING LIGHT, KATHERINE JENKINS


Download from iTunes

-

Buy from Amazon

26
RE-ENTRY
THE ULTIMATE CLASSICAL COLLECTION, VARIOUS ARTISTS
27
27
EVOLUTION, ALEXIS FFRENCH


Download from iTunes

-

Buy from Amazon

28
7
X-MEN - DARK PHOENIX - OST, HANS ZIMMER


Download from iTunes

-

Buy from Amazon

29
RE-ENTRY
WEINBERG/SYMPHONIES NOS. 2 & 21, KREMER/CBSO/KREMERATA BALTICA


Download from iTunes

-

Buy from Amazon

30
NEW
BACH/KANTATEN, VOX LUMINIS/LIONEL MEUNIER


Download from iTunes

-

Buy from Amazon