Classic FM Chart: Andrea Bocelli stays at No. 1
11 November 2018, 18:55 | Updated: 14 November 2018, 10:49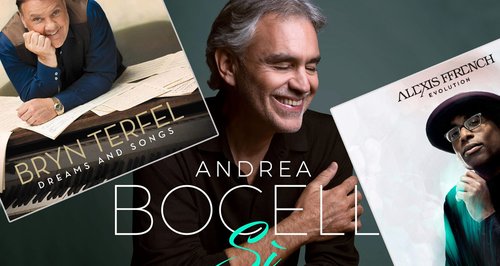 The chart's top five remains the same this week, and four new entries make it on to the chart.
There's no change in the top five places of the chart this week – Andrea Bocelli's new album Sì remains on top, followed by Bryn Terfel's compilation album Dreams and Songs, and Evolution by Alexis Ffrench. Firm favourite Einaudi stays at No. 4 with Islands and Sheku Kanneh-Mason continues his chart success with Inspiration at No. 5.
Víkingur Ólafsson's latest album Johann Sebastian Bach makes a re-entry to the chart at No. 9, and in anticipation of the festive season, Andre Rieu and the Johann Strauss Orchestra re-enter with the Best of Christmas album at No. 11.
Four new albums make it in to the chart this week – Haydn: String Quartets Op. 64 performed by The London String Quartet, Josquin Masses: Missa Gaudeamus; Missa L'ami Baudichon performed by The Tallis Scholars and Peter Phillips, Beethoven: Piano Concerto No. 4 / Chopin: Piano Sonata No. 2, Ballade No. 4 by Eric Lu (winner of The Leeds International Piano Competition 2018), and The Passing Measures by Mahan Esfahani.
This
Week
Last
Week
Title & Artist
1
1
SI, ANDREA BOCELLI


Download from iTunes

-

Buy from Amazon

2
2
DREAMS AND SONGS, BRYN TERFEL


Download from iTunes

-

Buy from Amazon

3
3
EVOLUTION, ALEXIS FFRENCH


Download from iTunes

-

Buy from Amazon

4
4
ISLANDS - ESSENTIAL EINAUDI, LUDOVICO EINAUDI


Download from iTunes

-

Buy from Amazon

5
5
INSPIRATION, SHEKU KANNEH-MASON


Download from iTunes

-

Buy from Amazon

6
15
CINEMA, ANDREA BOCELLI


Download from iTunes

-

Buy from Amazon

7
8
THE REAL CLASSICAL, VARIOUS ARTISTS


Buy from Amazon

8
10
THE GREAT WAR SYMPHONY, HAWES/RPO/NATIONAL YOUTH CHRS


Download from iTunes

-

Buy from Amazon

9
RE
JOHANN SEBASTIAN BACH, VIKINGUR OLAFSSON


Download from iTunes

-

Buy from Amazon

10
14
THE NUTCRACKER AND THE FOUR REALMS - OST, JAMES NEWTON HOWARD


Download from iTunes

-

Buy from Amazon

11
RE
BEST OF CHRISTMAS, ANDRE RIEU & JOHANN STRAUSS OR


Download from iTunes

-

Buy from Amazon

12
NEW
HAYDN/STRING QUARTETS, LONDON HAYDN QUARTET


Download from iTunes

-

Buy from Amazon

13
12
THE LITTLE MERMAID - OST, ALAN MENKEN


Download from iTunes

-

Buy from Amazon

14
16
THE 50 GREATEST PIECES OF CLASSICAL, LPO/PARRY


Download from iTunes

-

Buy from Amazon

15
17
DIVENIRE, LUDOVICO EINAUDI


Download from iTunes

-

Buy from Amazon

16
20
THE LORD OF THE RINGS - TRILOGY - OST, HOWARD SHORE
17
NEW
JOSQUIN MASSES - GAUDEAMUS & L'AMI BAUD, TALLIS SCHOLARS/PHILLIPS


Download from iTunes

-

Buy from Amazon

18
18
SLEEP, MAX RICHTER


Download from iTunes

-

Buy from Amazon

19
23
THE LORD OF THE RINGS - OST, HOWARD SHORE
20
6
JOHN WILLIAMS - A LIFE IN MUSIC, LSO/GREENAWAY


Download from iTunes

-

Buy from Amazon

21
28
ELEMENTS, LUDOVICO EINAUDI


Download from iTunes

-

Buy from Amazon

22
25
GLADIATOR - OST, HANS ZIMMER & LISA GERRARD


Download from iTunes

-

Buy from Amazon

23
NEW
BEETHOVEN/CHOPIN/PIANO CONCERTO NO 4, LU/HALLE OR/GARDNER


Download from iTunes

-

Buy from Amazon

24
NEW
THE PASSINGE MESURES, MAHAN ESFAHANI


Download from iTunes

-

Buy from Amazon

25
27
SCORE, 2CELLOS


Download from iTunes

-

Buy from Amazon

26
26
IN A TIME LAPSE, LUDOVICO EINAUDI


Download from iTunes

-

Buy from Amazon

27
RE
PRIDE & PREJUDICE - OST, MARIANELLI/ECO/THIBAUDET


Download from iTunes

-

Buy from Amazon

28
11
DESTINATION RACHMANINOV - DEPARTURE, TRIFONOV/PHILADELPHIA OR


Download from iTunes

-

Buy from Amazon

29
24
THE COMPLETE HARRY POTTER FILM MUSIC, CITY OF PRAGUE PO


Download from iTunes

-

Buy from Amazon

30
22
THE BLUE NOTEBOOKS, MAX RICHTER


Download from iTunes

-

Buy from Amazon